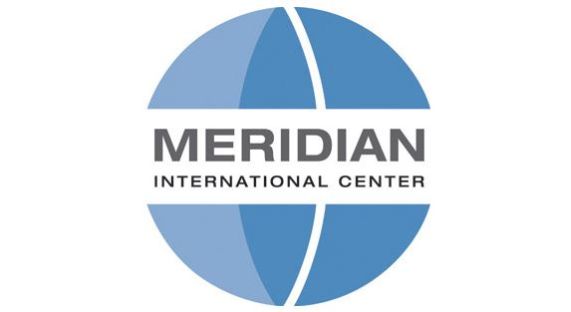 Meridian International Center believes those leaders who have a global view, cultural awareness, peer networks, and the ability to collaborate, produce better outcomes. That's why they are pleased to announce the Meridian's Scholarship for Global Leaders of Digital Financial Inclusion. Members of Washington's foreign diplomatic community, international organizations, and the media are encouraged to apply. As part of Meridian International Center's Digital Finance Future convening series, the program will award scholarships to select individuals who want to further their learning and training in digital financial inclusion and contribute to inclusive economic growth in their communities and countries.
Meridian International Center is a premier nonprofit, global leadership organization headquartered in Washington, DC. Building on more than 55 years of experience, Meridian prepares U.S. and international leaders to meet global challenges and opportunities.
Eligibility:
Scholarship eligibilities are as the following:
Proficient in reading, writing, and speaking English
Demonstrated interest or professional experience in digital financial inclusion
Participants of The Digital Finance Future are highly encouraged to apply, in addition to members of Washington's foreign diplomatic community, international organizations and the media.
Financial inclusion practitioners, researchers, and policymakers are also welcome to apply for the scholarship.
How to Apply:
To apply for the scholarship, the applicant can download the application through the given link: http://www.meridian.org/wp-content/uploads/2017/06/Application_Meridian-Digital-Finance-Scholarship_06.23.2017.docx
Supporting Documents:
Scholarship recipients must complete a two-page written report due within one month of participating in the selected course or conference.
Writing a post for Meridian's blog is also highly encouraged and may be considered substitutable for a report. In either form, scholarship recipients must be able to address the following:
Describe your biggest takeaway related to financial inclusion learned specifically through your participation in the course or conference supported by Meridian's scholarship.
What were the immediate outcomes of your learning gained through the experience afforded by Meridian's scholarship?
What is the anticipated impact of your learning over the next 6 months to a year? How will you measure that impact?
Submitting Details:
The applicant must submit a completed application to digitalfinance-at-meridian.org
Financial Aid and Award Money:
The scholarship will cover the cost of tuition and/or registration for one course or conference.
The Digital Frontier Institute – a not-for-profit that offers seven online courses on digital financial services
Boulder Institute's Microfinance Training Program – an in-person experience held at various locations around the world
The Helix Institute of Digital Finance – an organization that provides online and in-person training and data for digital financial service providers.
The Fletcher School Leadership Program in Financial Inclusion – an innovative, online and in-person training initiative designed by Tufts Fletcher School's Institute for Business in the Global Context
Harvard Kennedy School's "Rethinking Financial Inclusion: Innovation for Policy and Practice" – an executive program, based at Harvard's campus in Boston
Harvard Business School–Accion Program on Strategic Leadership in Inclusive Finance – a six-day, anin-person program that offers leaders from around the world an opportunity to connect with peers while engaging with Harvard Business School's top thinkers in business strategy and management.
Women's World Banking's "Making Finance Work for Women" – October 24-25, 2017 in Dar es Salaam, Tanzania.
The MasterCard Foundation Symposium on Financial Inclusion – November 8-9, 2017 in Accra, Ghana.
Application Deadline:
The Applications for the scholarship are due by Friday, July 14, 2017. Meridian will select and notify scholarship recipients by the end of July.
Recipients will be required to report back to Meridian within one month of completing the course or conference selected.
Link for More Information:
http://www.meridian.org/announcement/meridians-scholarship-for-global-leaders-of-digital-financial-inclusion/