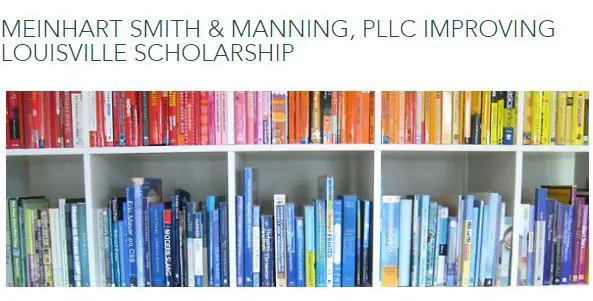 At Meinhart, Smith & Manning, they fully support students who are dedicated to helping others. To honor the efforts of these compassionate young people, they have put forward the Meinhart Smith & Manning PLLC Improving Louisville Scholarship Program. The scholarship will assist a student who has made an impact through service to the community and wishes to pursue a higher education. The $1,000 scholarship will be awarded to a student with a record of helping others in the community, whether through volunteering or other outstanding efforts.
Meinhart, Smith & Manning helps people who have suffered from a wide variety of personal injuries- including those caused by negligence, malpractice, and auto accidents- get the compensation they deserve.
Eligibility:
Applicants must meet the following criteria:
• Recipient is a U.S. citizen or otherwise authorized to work in the United States
• Recipient is accepted, and will be attending an accredited 4-year university in the fall of 2016
• Academic achievement as reflected by an undergraduate cumulative minimum 3.0 GPA
• Applicants must a resident of Louisville Metro or surrounding area.
How to Apply:
For applying the scholarship, complete application form. The form can be downloaded from the given link:
https://www.bluegrassjustice.com/wp-content/uploads/2014/06/2016-Scholarship-Application-Form.pdf
Supporting Documents:
• A three-page typed essay describing the student's volunteer efforts that have provided benefit to the Louisville community.
• An official copy of high school or undergraduate transcripts. A minimum cumulative GPA of 3.0 is required for the application.
• A letter of acceptance from an accredited university or law school in the United States for fall 2016.
• Proof of legal residency in the United States. Acceptable documents include a birth certificate, passport or permanent residency card.
Submitting Details:
Application along with supporting documents should be e-mailed in PDF format to bluegrassjustice-at-gmail.com
Award Amount:
A check for $1,000 will be made payable to the award recipient's law school to cover these expenses.
Application Deadline:
Completed applications must be submitted no later than August 1, 2016.
Link for More Information:
https://www.bluegrassjustice.com/scholarship/
Contact Information:
All questions regarding the scholarship should be sent to bluegrassjustice-at-gmail.com