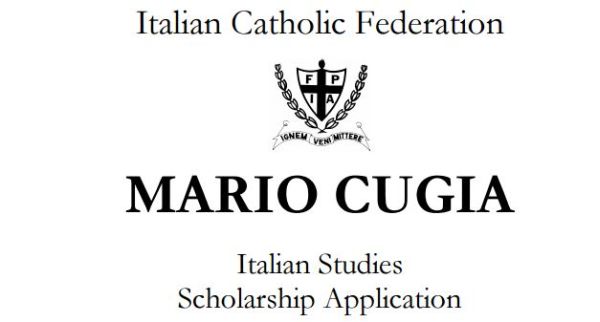 The Italian Catholic Federation (ICF) is pleased to announce the Mario Cugia Italian Studies Scholarship Program. The program encourages and supports majors in Italian studies. The Italian Catholic Federation is a National Roman Catholic Fraternal Organization composed of persons of Italian ancestry (including their non-Italian spouses) who are of the Roman Catholic Faith.
An Italian Studies Scholarship Program was created in 1998 to honor Cugia, Past President and Life Member of the Italian Catholic Federation Central Council
Eligibility:
Applicants must be of the Roman Catholic Faith, of Italian descent or – if non-Italian – children or grandchildren of current members of the Italian Catholic Federation
Must have declared a major in Italian Language, Literature, History, Art or other aspect of Italian culture
Total cumulative GPA of at least 3.2
How to Apply:
For applying the scholarship, the candidates must fill the application form. The application form can be downloaded by the link:
http://www.icf.org/forms/languageapp.pdf
Supporting Documents:
A letter of recommendation from a qualified teacher, administrator or counselor which also attests to the applicant's GPA and Class Rank
A personal letter of approximately 150 words explaining the applicant's Italian origin (or I.C.F. affiliation of their non-Italian Roman Catholic parents, guardians or grandparents), why the applicant's Catholic Faith is important to them and describing the applicant's plans for the future
Submitting Details:
The completed application packet must be mailed to the Italian Catholic Federation at the address below:
Italian Catholic Federation
8393 Capwell Drive, Suite 110
Oakland, CA 94621
Award amount:
The program offers two scholarships: (1) a $600 award to a 3rd year university student declaring a major in Italian, and (2) a $1,000 award to a 4th year university student continuing his or her studies in Italian.
Application Deadline:
The application deadline is by August 1st.
Link for More Information:
http://www.icf.org/forms/languageapp.pdf