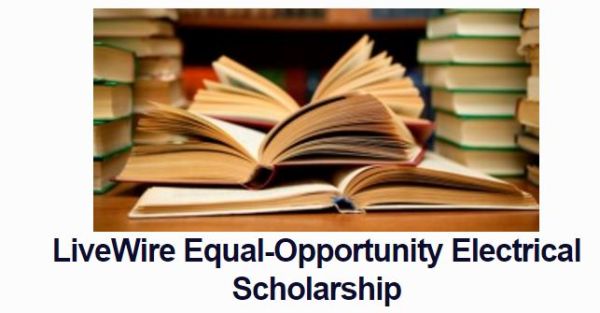 LiveWire is happy to announce the first year of its Equal Opportunity Electrical Scholarship as they love electricity and want to promote everyone who shares this passion to pursue a career in the same field. The scholarship is available for U.S. citizens. The scholarships will recognize three students studying electricity in trade school or college who have displayed success in their classes.
LiveWire CEO and founder, Adam Messner, believes "encouraging able-bodied, and able-minded workers to pursue their passion is crucial for the health of our industry (or any industry).
Eligibility:
Students that are eligible for the LiveWire Electrician Scholarship must meet the following eligibility requirements:
Enrolled or accepted for enrollment as a full-time student at an accredited undergraduate institution or trade school located within the United States of America.
Be a U.S. citizen or maintain legal residency within the United States.
Have achieved a minimum cumulative high school GPA of 3.0 on a 4.0 scale.
Must have applied for federal financial aid (FAFSA) in 2015.
Excluded from consideration are employees and relatives of employees of LiveWire Electrical Supply, Inc
How to Apply:
To be considered for scholarship, the applicants must complete the scholarship application from that can be downloaded through the given link:
http://livewiresupply.com/resources/wp-content/uploads/2015/11/LW-scholarship-app.pdf
Supporting Documents:
Statement of Financial Need
Submit an essay of 300-500 words or less in response to the following question: "Why do you want to work in the electrical industry?"
Submitting Details:
Application and materials should be email to Scholarship-at-livewiresupply.com
Or
Application packet can be mailed to:
LiveWire Electrician Scholarship
1060 Bryant St
San Francisco, CA, 94103
Award Amount:
LiveWire Supply will be awarding three outstanding students with $500 each to help them reach their educational goals for the 2016-2017 school year.
Application Deadline:
The application deadline is May 31, 2016 for the 2016-17 academic year. Applications arriving at 12:01 am or later on the morning after the deadline date will not be considered.
Link for More Information:
http://livewiresupply.com/resources/scholarship/
Contact Information:
You can email any general questions to: Scholarship-at-livewiresupply.com