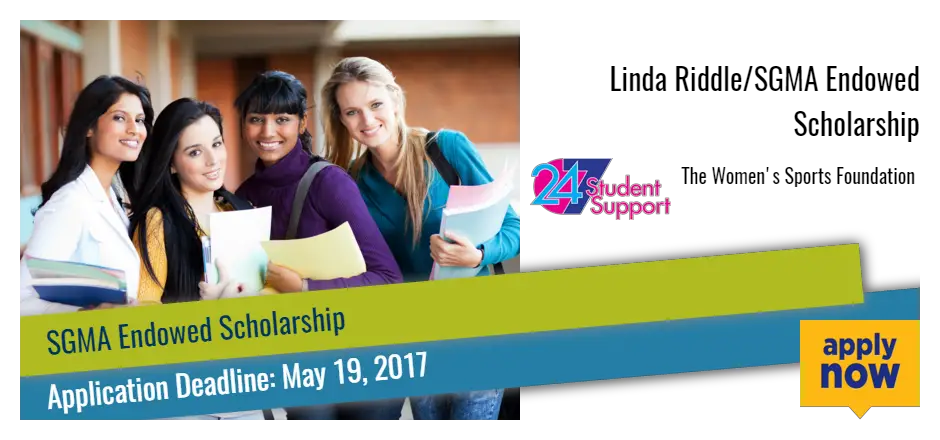 If you are female athletes and looking for a scholarship, you have an opportunity to apply for this "The Linda Riddle/SGMA Endowed Scholarship" sponsored by Women's Sports Foundation. Graduating high school in the spring of 2017 and entering college in the fall of 2017 as a first-year student is eligible to apply. The scholarship is aimed to provide young female athletes of limited financial means the opportunity to continue to pursue their sport in addition to their college studies. One $1,500 scholarship will be awarded to the winning candidates.
The Women's Sports Foundation (WSF) is an educational nonprofit charity focused on female involvement in sports. Founded in 1974 by tennis player Billie Jean King and initially supported by Olympic athletes Donna de Varona and Suzy Chaffee, its stated mission statement is "To advance the lives of girls and women through sports and physical activity.
Eligibility:
In order to apply for the scholarship, applicants must meet all of the following eligibility
A female American citizen or legal resident of limited financial means that will be graduating high school in the spring of 2017
Entering college in the fall of 2017 as a first-year student is eligible to apply, provided that she has 1) participated on an officially recognized high school athletic team; and 2)
Maintained a minimum of a 3.5 cumulative grade point average on a 4.0 grading scale.
NCAA Eligibility
If you plan to participate in intercollegiate athletics you are advised to consult with your institution's department of athletics to determine how receipt of this scholarship may impact your eligibility and/ or award of athletically related financial aid.
For general questions regarding the application of NCAA legislation or your eligibility to participate in intercollegiate athletics, please contact the NCAA or your collegiate institution directly.
How to Apply:
To be applying you must be submitted an online application, you can go through the given link and download the application form
https://www.grantinterface.com/Home/Logon?urlkey=womenssportsfoundation
Financial Aid and Award Money:     
The winners will get the scholarship amount of $1,500.
Application Deadline: 
The deadline for the application submission is May 19, 2017.
Link for More Information:
https://www.womenssportsfoundation.org/programs/grants/linda-riddle-sgma-endowed-scholarship/
Contact Information:
If you have any question you can call Elizabeth Flores at 516-307-3915 or e-mail her at LFlores-at-WomensSportsFoundation.org.