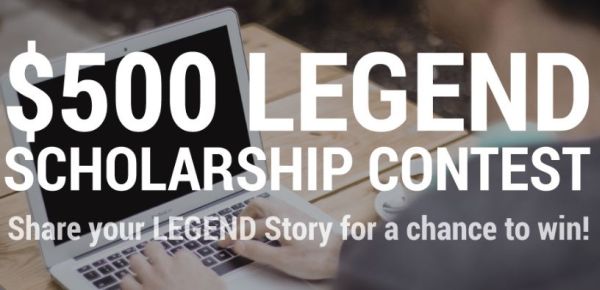 LEGEND™ knows that college can be expensive that's why they want to help the students by making scholarship available to well deserving winner. In order to enter you must be a current college student. Submit an essay as they look forward to reading about what it means to "Be a LEGEND" in your life. The recipient will receive a one-time $500 scholarship to be applied to qualified expenses, including graduate and undergraduate tuition, fees, books, and on-campus room and board for the 2016 academic year.
The mission of LEGEND Compression Wear™ is to improve the performance of every athlete—from the casual jogger to the competitive triathlete.
Eligibility:
Applicant must be a U.S. Citizen or Permanent Legal Resident of the United States.
Employees of LEGEND™ Compression Wear are not eligible.
Incoming freshman:
Applicant must be a current student and have a cumulative high school grade point average of at least 2.5 on a 4-point scale and must have taken either the ACT or SAT test.
Applicant must also be a high school or home school senior graduating or earning a GED between January 1, 2016 and July 1, 2016 and plan on attending have proof of acceptance to an accredited college or university by Fall semester 2016.
Current freshman, sophomores, juniors, seniors, and graduate students: Applicant must have a cumulative college grade point average of at least 2.5 on a 4-point scale, and be enrolled full-time at an accredited college or university between June 1, 2016 and December 31, 2016.
How to Apply:
For applying the scholarship, the candidates must fill out the Scholarship entry form through he given link: http://legendcompressionwear.com/2016-scholarship/
You must submit a 500 word minimum blog article about the topic: "What it means to be a LEGEND in my life".
Award Amount:
$500 scholarship award will be given to the winning candidate.
Application Deadline:
Submit the completed application by 5 p.m. on May 1, 2016.
Link for More Information:
http://legendcompressionwear.com/2016-scholarship/