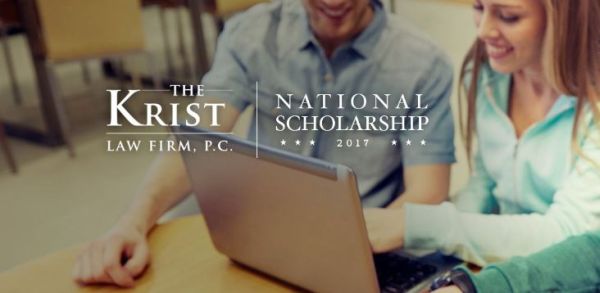 The Krist Law Firm is happy to announce its annual scholarship the "Krist Law Firm, P.C. National Scholarship". The program is open to students who are accepted to or currently enrolled in an accredited college, university, or graduate program in the United States. The firm provides a scholarship to an individual student the financial resources to accomplish their educational goals and prepare for future career aspirations. The winners will receive up to $10,000 scholarship award towards educational expenses.
The Krist Law Firm, P.C. is a team of highly skilled personal injury trial lawyers headed by lead attorney Scott Krist. The firm represents individuals who have been injured in commercial trucking accidents, maritime accidents, and many other types of accidents. The Krist Law Firm, P.C. has built its success on integrity and ethical work, bringing trial-worthy preparation to each of its cases and having the financial resources to build winning cases.
Eligibility:
In order to be eligible for the National Scholarship, applicants must:
Be a United States citizen or permanent resident.
Be accepted to or currently enrolled in an accredited college, university, or graduate program within the United States.
Have a cumulative GPA of 3.0 or higher.
Demonstrate good character and high initiative.
How to Apply:
To apply for the scholarship, the applicant can download an application form or submit an online application through the given link:
Supporting Documents:
Applicants must submit the following documents to be considered:
A current high school, college, or graduate school transcript. (Unofficial copies are acceptable)
A letter of recommendation from a teacher/faculty member.
A typed essay of 300-500 words about a time when you faced a significant ethical dilemma. What was the situation and what did you do?
Additionally, include a brief personal statement as to why you deserve to receive this scholarship and in what way it will further impact your education. Applicants are highly encouraged to speak from the heart.
Submitting Details:
The applicant must submit completed application and requisite materials by e-mail in PDF format to scholarship-at-houstoninjurylawyer.com
Financial Aid and Award Money:
The Krist Law Firm, P.C. will be awarded $10,000 to qualified applicants. The scholarship must be applied to tuition and other education-related expenses. A check will be made payable to the recipient's educational institution directly.
Application Deadline:
The applications and supporting materials must be postmarked or submitted online no later than December 1, 2017.The scholarship winner will be notified by email prior to January 13, 2018.
Link for More Information:
https://www.houstoninjurylawyer.com/the-krist-law-firm-national-scholarship/
Contact Information:
If you have any question, call them at (281) 305-3333 or can be directed email to scholarship-at-houstoninjurylawyer.com.