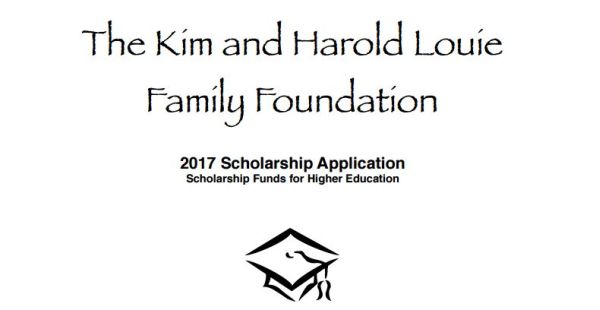 The Kim and Harold Louie Family Foundation is pleased to introduce you, about its Scholarship Program. The scholarship is open to high school seniors and students who will be attending a college or university in the United States as a freshman during the 2017-2018 academic year. The scholarship program seeks to improve the conditions and technologies for sick and disabled people. The foundation will award scholarship amount approximately $100,000.
The Kim and Harold Louie Family Foundation intends to set the number of actual scholarships and the amount of an individual scholarship based on a consideration of certain factors, including without limitation, the financial resources and the qualifications of the scholarship recipients.
Eligibility:
The list eligibility criteria are given below:
Be a freshman in the 2017-2018 academic year and anticipate enrolling at a U.S. accredited college/university in the 2017-2018 academic year.
Have a cumulative, unweighted grade point average between 3.5 and 4.0 on a 4.0 scale (or equivalent). Students not on a 4.0 grading scale must convert their GPA to a 4.0 scale before submitting an application to the Foundation.
Have a minimum SAT score of 1200 (out of 1600) or 1800 (out of 2400) or a minimum ACT score of 25. However, if you did not take the SAT or the ACT because the school you will be attending in the fall of 2017 does not require such test scores, please so indicate on the application form. The Foundation will verify this with the school prior to any award.
Have at least two reference letters, one of which must be from a current or former teacher in an academic subject.
Submit personal statements as further described in this packet.
Have applied to a U.S. college/university, either full-time or substantial part-time, and plan to enroll in a minimum of two terms for the school year (verified by submitting a copy of the acceptance letter from the college or university as soon such acceptance letter is available).
How to Apply:
Supporting Documents:
To apply, students must be ready to submit the following
Complete and sign the enclosed application form
Include a copy of your high school transcript (an official transcript will be required to be submitted if you receive an award)
Include a copy of your SAT or ACT scores (printouts are acceptable) or request a copy to be sent to us
Include sealed copies of your letters of recommendation or ask the recommenders to send them directly to us
Include your SIGNED and DATED personal statements (each typed essay should be no longer than 500 words)
Include Student Aid Report (FAFSA) or parents' tax return? You may omit these documents if you would like the scholarship committee to consider your application without regard to your financial need. Please note that preference is given to applicants with demonstrated financial need. Include a picture of yourself with your name written on the back of the picture
Remove all staples from the application
Submitting Details:
The complete, signed applications with all materials package send to:
The Kim and Harold Louie Family Foundation
2017 Scholarship Program
1325 Howard Ave., Suite 949
Burlingame, CA 94010
650-491-3434
Louiefoundation-at-gmail.com
Financial Aid and Award Money:     
The Kim and Harold Louie Family Foundation (the "Foundation") anticipates awarding approximately $100,000 in scholarships in 2017.
Application Deadline: 
The last date for application submission is March 31, 2017.
Link for More Information:
http://www.louiefamilyfoundation.org/scholarship-application