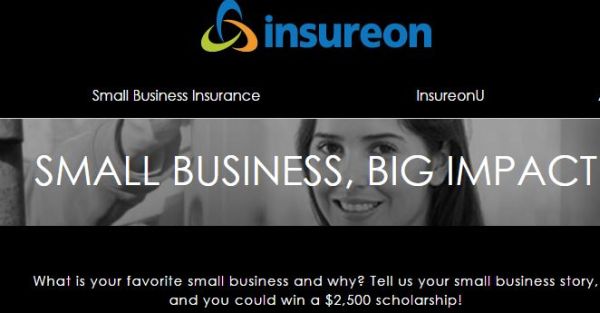 In some cases, the costs associated with attending college may keep achieving the dream of earning a degree out of reach for some students. As a result, Insureon, online business insurance agency is offering Small Business Big Impact Scholarship for high school senior or current undergraduate student. Every semester, insureon's Small Business, Big Impact scholarship holds an essay contest for college students whose lives have been impacted by small businesses. Just submit an essay of 500- to 750-word and you could be able to win $2500 scholarship award.
Insureon is the nation's premier online small business insurance agency. With Insureon, you enjoy the speed, ease, and convenience of the web, but you also enjoy the peace of mind of industry-leading customer service.
Eligibility:
• The Insureon Small Business Scholarship Program is open to any citizen and/or resident of the United States, the District Of Columbia and Its Territories and Possessions
• A high school senior or current undergraduate student
• Will be enrolled in a 2- or 4-year public or private college or university located in The United States and the District of Columbia full-time for an academic school year
• All other entries will be disqualified. Employees of Bin Insurance Holdings LLC ("Sponsor") and its divisions, affiliates, subsidiaries, promotional or marketing agencies and their immediate family members (spouse, parents, children, and siblings) and persons living in family member homes are not eligible
How to Apply:
• To be considered for the scholarship, the candidates must complete the on-line application form and upload a 500- to 750-word essay about your favorite small business and why you love it. The link is: http://www.insureon.com/insureonu/small-business-scholarship#scholarship-form
• Parents must grant consent if the student is 17 years old or younger. A check box will be provided on the online entry form
• Each finalist will be asked to provide a photo of the applicant with the small business or photo of the applicant that represents the nature of the small business (for Facebook App purposes)
Essay Guidelines:
• The essay must be written in English. Essays with fewer than 500 words or more than 750 words will be disqualified
• Essays must be the original work of the student and factually accurate, and they must not be in the public domain
• Essays may not infringe upon or violate any personal property rights of others, such as defamation, invasion of privacy, infringement of the intellectual property rights of any third person or other unlawful use of material
• By submitting an essay to the Insureon Small Business Scholarship Program, each student acknowledges his or her understanding of and compliance with these rules. Sponsor reserves the right to disqualify any entry deemed inappropriate for publication per the company's discretion.
Award Amount:
Two winners will earn a $2,500 scholarship toward their educational expenses.
Application Deadline:
The contest period will close on July 31, 2016.
Link for More Information:
http://www.insureon.com/insureonu/small-business-scholarship