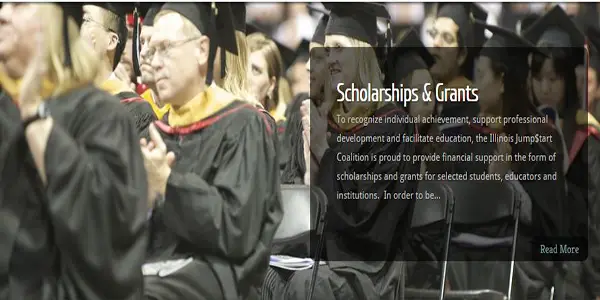 Illinois Jump Start Coalition is feeling proud to give financial support for the students in the form of scholarship so that they can achieve the higher education. With the help of the scholarship students evade financial trouble, build secure, comfortable and productive lives for themselves and their families.
Eligibility:
For applying the scholarship, recipient must meet the following criteria:
Reside and attend school in Illinois in grade 9 through post-secondary
Have determined significant ability, initiative or achievement involving money management
Submit a completed application, along with a written recommendation on organization letterhead from a teacher, counselor or other non family member
Not be prior ILJC scholarship recipients, or family members of current ILJC Directors
How to Apply:
To apply for ILJC student scholarship application students must fill out the application form through the given link http://illinoisjumpstart.org/scholarships-grants/student-scholarships/
Award Amount:
The winning candidates will receive up to $500.00 scholarship amount.
Application Deadline:
The application deadlines for the three 2015 "Student Scholarships" Award Cycles are:
Spring – February 19
Summer – June 18
Fall – October 1
Link to Apply: