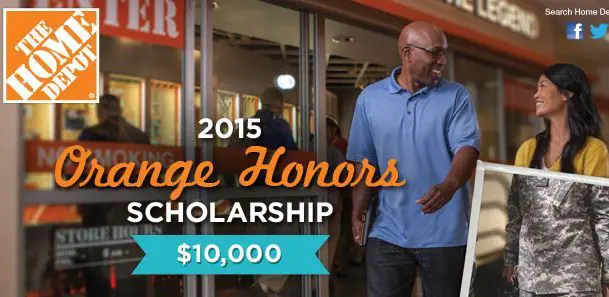 Are you dreaming for a college degree? If your answered is yes, enter in The Home Depot Careers 2015 Orange Honors Contest and you will get a opportunity to win a $10,000 scholarship. The Home Depot is feeling proud to provide career opportunities across the nation for current and former members of America's military and their spouses.The Home Depot, founded in 1978 and it is the world's largest home improvement specialty retailer.
Eligibility:
To be considered eligible for the scholarship the candidates must follow the given criteria:
Eligible contestants must be 18 years of age or older
The spouse of a US active duty service member or active reservist
must be legal residents of the 48 contiguous United States or the District of Columbia
Scholarship is sent directly by check to the school where the military spouse is/will be enrolled – and is eligible to be used towards an associate's degree or higher.
How to Apply:
For applying the scholarship, the candidates must fill the on-line application form. The link is:
http://militaryspouse.com/contests/
Supporting Documents:
The candidates must submit a 750-1250 word essay. The essay topic is: "How would earning a college degree positively impact your life?"
The submitted essay must be in Microsoft Word or a compatible format and must be between 750 and 1250 words in length.  Save your file in the following format: OrangeHonors_LastName.
Award Amount:
One scholarship award in the amount of Ten Thousand Dollars ($10,000.00 USD) will be awarded to the one grand prize winner.
Application Deadline:
The candidates must enter by 5:00 pm EDT on July 17, 2015.
Link for More Information:
http://militaryspouse.com/contests/?utm_content=bufferab2d9&utm_medium=social&utm_source=twitter.com&utm_campaign=buffer