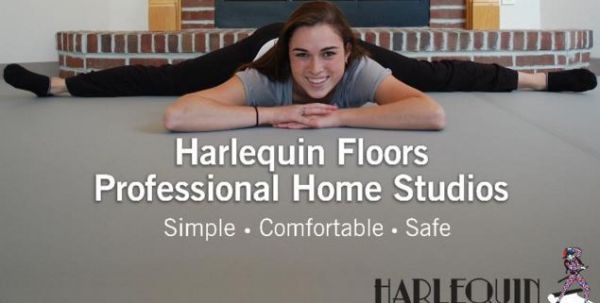 Register to submit or to vote for a video for the Harlequin Floors Monthly Video Contest. Once registered, submit your YouTube dance video today for a chance to win $250 cash this month. The American Harlequin Scholarship Video Contest on TheWorldDances.com is conducted by and sponsored by American Harlequin Corporation. Annual Dance Scholarship program provides support, encouragement and better opportunities for dancers. Post your video today and remind all your friends and family to register and VOTE for your video on TheWorldDances.com.
TheWorldDances.com, brought to you by Harlequin Floors, is your site for all things dance.  At TheWorldDances.com you'll find the hottest dance deals, news, tips and fun insights.
Eligibility:
Only residents of the 50 United States and Canada are eligible to win the contest. Videos with profane lyrics will not be accepted, activated nor eligible for the contest.
There are no age restrictions to enter the contest. However, only a parent or guardian may upload/enter a video for a minor.
Employees of American Harlequin Corporation, members of their immediate families or living in the household of an American Harlequin Corporation employee, anyone affiliated with
TheWorldDances.com panel of judges, anyone affiliated with American Harlequin or its ad agencies, contractors, interns, consultants or fulfillment house are not eligible to enter the contest.
How to Apply:
To enter a video or to vote for a video, one must register as a user on TheWorldDances.com.
All videos must be uploaded from YouTube. A video submitted in one month's contest can be resubmitted in a subsequent contest, unless it is a winning video in any prior month.
Award Amount:
American Harlequin will award (total) $1,000 every month to the winners of the 2016 Monthly American Harlequin Scholarship Video Contest
Each entrant of a winning video will win $250.00 cash. Upon verification of eligibility and once the winner has supplied a mailing address, $250.00 will be mailed to each winner.
Application Deadline:
Each and every month of 2016, a separate monthly video contest will be conducted which ends on the last Saturday of each month at 11:00 a.m. (Eastern time zone), with the next month's contest starting immediately thereafter at 11:01 a.m. on that same day.
Link for More Information:
http://www.theworlddances.com/contests/2016/02/27/march-harlequin-floors-scholarship-contest