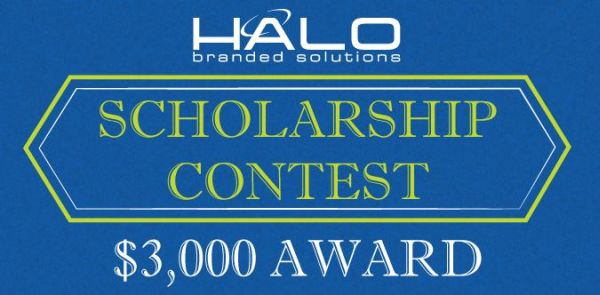 Enter the HALO Branded Solutions Scholarship Contest for gain an opportunity to win $3,000 toward your undergraduate degree.  The HALO Scholarship Program is open to residents of United States who are eighteen years of age or older. HALO Branded Solutions seeks to support the next generation of marketing leaders and innovators through the college scholarship contest.  They are looking for students who demonstrate creativity, a passion for marketing, and a commitment to excellence.
HALO Branded Solutions, Inc. is a global leader of promotional solutions, combining creativity, innovation and the most sophisticated technology for dynamic results.
Eligibility:
The HALO Scholarship Program is open to only those legal residents of the fifty (50) United States and the District of Columbia
Are eighteen (18) years of age or older at the time of application
Are currently enrolled (or have been accepted to enroll) in an accredited post-secondary institution of higher learning (e.g. college or university)
The scholarship contest is not open to anyone employed in, or whose immediate family is employed in, the promotional products industry in any capacity. This includes (but is not limited to) suppliers, distributors and organizations that primarily service the promotional products industry
How to Apply:
In a 400-600-word essay, write a response to one of the following essay prompts:
What's in a logo? What makes a logo effective? How should a company or organization utilize its logo to support the brand?
Why does a company's brand matter? How can a company or organization build its brand?
Describe and evaluate a situation where marketing has positively affected the relationship(s) between a business or organization and its customer(s) and/or employees.
Copy of most current transcript, and a letter of recommendation, all in PDF format.
Submitting Details:
Submit your essay, transcript, and letter of recommendation to scholarship-at-halo.com.
No substitutions, new drafts, or corrected pages will be accepted once you have submitted your original application.
Name and save your files in the following format:
LastName_FirstName _Essay.pdf
LastName_FirstName _LetterRec.pdf
LastName_FirstName _Transcript.pdf
Award Amount:
One (1) winner will receive a Scholarship Prize in the amount of three-thousand U.S. dollars ($3,000).
Application Deadline:
The HALO Scholarship Program (the "Scholarship Program") ends at 12 midnight CST on May 30, 2016.
Link for More Information:
https://www.halo.com/scholarship-contest.aspx