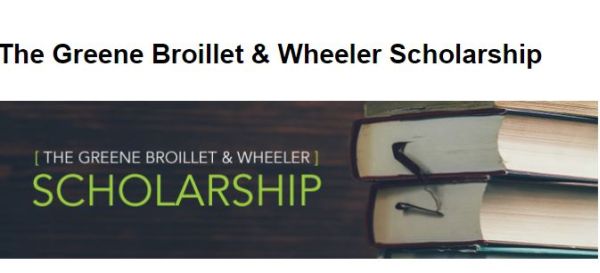 Greene Broillet & Wheeler LLP, understand the dedication, hard work and financial responsibility that are required to get an education and start down the path to a bright future. As such, they are providing scholarships to help lessen the financial stress of paying for an education, allowing the selected applicants to spend more time focusing on their studies. Undergraduate students can apply for the given scholarship.  Five scholarships of $1,000 each will be given to help exceptional young people begin or continue their educational journeys and start making success their own tradition.
Greene Broillet & Wheeler, LLP is among the top performing plaintiffs' trial law firms in California and the United States.
Eligibility:
Students must be enrolled (or applying for enrollment) during the following full academic year at a college or an accredited program. You do not need to have a focus on law or a pre-law major.
Only those attending or planning to attend an undergraduate program may apply (no graduate programs).
How to Apply:
To be considered for scholarship, the candidates must submit essays that address both of these questions:
What do you believe is the most important function of the law?
If you could change one aspect of the law, what would it be and why would you change it?
Essay Guidelines:
your submission email, include your name, address, email address, phone number and the name of the college/university/program that you are attending or applying to.
The essay should be no more than three (3) pages, double spaced.
Use Times New Roman font and 1-inch margins on all sides of the page.
Submitting Details:
You can submit your essay to gbwscholarship-at-gmail.com.
Award Amount:
Five (5) scholarships ($1,000 each, sent directly to the winners' schools) will be given to the winning candidates.
Application Deadline:
Your essay must be submitted on or before June 1, 2016 (submissions made after this date will not be accepted).
Link for More Information:
http://www.greene-broillet.com/About-GBW/The-Greene-Broillet-Wheeler-Scholarship.shtml
Contact Information:
You can send all scholarship-related questions to gbwscholarship-at-gmail.com.