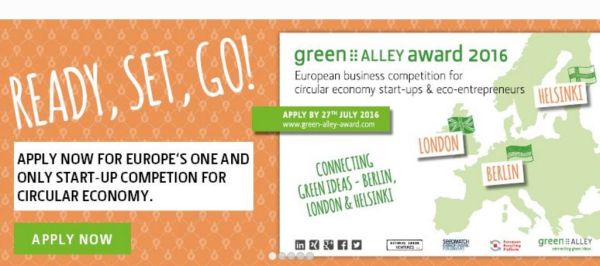 Are you a green start-up or eco-entrepreneur with a brilliant idea in the green and circular economy sector? Then apply now for the Green Alley Award 2016 and become one of Europe's leading sustainable start-ups. You can apply for the Green Alley Award no matter what stage of development your business has reached, whether you are a founder with a rough idea or a small business. The aim of an award is to find creative people with innovative ideas about how to turn waste into a sustainable business model. The winner will get a cash prize of 7000 € and much more.
The Green Alley Award was initiated in 2014 by Green Alley Investment GmbH in cooperation with Germany's crowdfunding pioneer Seedmatch.
Eligibility:
You can apply for the Green Alley if you are a founder with a rough idea or a small business just starting to grow.
The award is open for start-ups from all around the world interested in entering the European market.
How to Apply:
For applying the scholarship, the candidates are required to follow the given steps:
Award Amount:
Beside beautifully upcycled award trophy, the one and only Green Alley Award winner receive up to 30,000 Euros in cash and services:
A cash prize of 7000 €
Rent-free space in our coworking space in Berlin for six months
Customized one-day workshop with a topic to choose (E-Commerce/Online-Marketing and -Strategies or Organizational development)
The possibility to receive crowdfunding, or to take part in a UK accelerator program
The possibility to pitch in front of the Green Alley management board for an investment
Application Deadline:
Deadline for all applications is July 27, 2016.
Link for More Information:
Contact Information:
If you have more questions, call: +49 (0)30 / 200062 – 0 or mail: award-at-green-alley.com