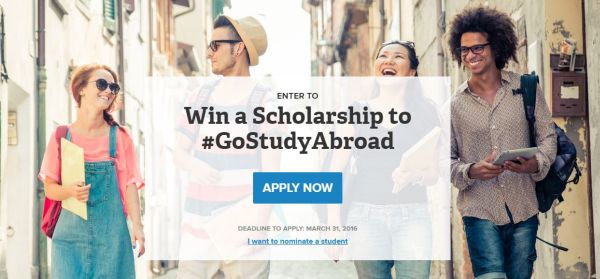 Do you want to go study abroad for higher education? International experience can help you build language skills, gain cross cultural competencies and can help you get a great job. Go Overseas Company is pleased to offer scholarship program. Nominate a student to GoStudyAbroad and they could win a study abroad scholarship.
Go Overseas, a company of travelers who have studied, worked, taught, lived and volunteered overseas. The mission of Go Overseas Company is to empower more people to spend meaningful time overseas.
Eligibility:
The contest is open to U.S. citizens or permanent residents of the 50 United States or D.C. except Rhode Island who are 18 years of age or older.
The contest is open to those users who nominate individuals to be invited to enter ("Nominators") and to those Users who are either nominated to enter or who enter independently ("Nominees").
Officers, directors, employees and agents (and their immediate families or household members) of Sponsors and Affiliated Companies (defined below) are not permitted to enter the Contest as Nominees nor may they win a Nominator Prize but they are permitted to nominate potential entrants
The Contest is governed by U.S. law, is subject to all applicable federal, state and local laws and regulations, and is void where prohibited by law.
How to Apply:
To be entering in contest, the candidates must complete the on-line scholarship application form through the given link: http://www.gooverseas.com/generationstudyabroad/student
Nominees must submit their name, email, current college/university, academic level, nationality, where and why they are interested in studying, when they are interested in studying abroad, the biggest obstacles to study abroad, their own and their family's overseas experience, and how a scholarship will help them realize their goals.
Users who are Nominators also will be asked to submit names and email addresses of Nominee candidates for study abroad. The Sponsors will contact such Nominees once and invite them to enter the Contest.
Award Amount:
Nominate a friend to study abroad and be entered to win one of five $500 travel prizes. The grand prize winner will receive a roundtrip ticket back to the country they studied abroad in, sponsored by IFSA-Butler.
Application Deadline:
The Contest Period begins at 12:00:00 AM United States Pacific Time on February 16, 2016 and ends at 11:59:59 PM United States Pacific Time on March 31, 2016.
Link for More Information:
http://www.gooverseas.com/generationstudyabroad