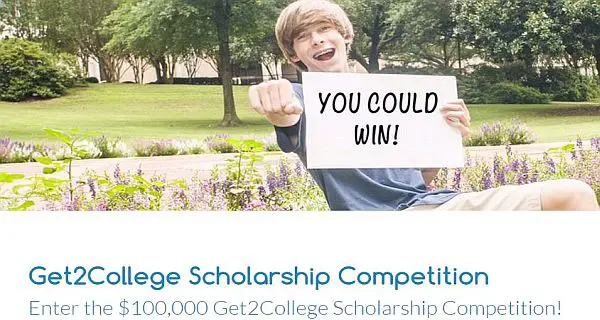 The $100,000  Scholarship Competition for 2015-16 is now open. Get2College will award $1,000 scholarships to 100 seniors this spring. The scholarship is available for Mississippi resident and a high school senior who is graduating from a Mississippi high school in spring 2016. Get2College Centers offer a variety of free information and college planning services to help Mississippi's high school students get to college.
Get2College is Mississippi's recognized expert resource for college admission and financial aid advice. It offer students and their families a comprehensive program to help plan, prepare, and pay for college. Get2College is a division of the nonprofit Education Services Foundation.
Eligibility:
All scholarship applicants must follow the given criteria:
Be a Mississippi resident and a high school senior graduating from a Mississippi high school in Spring 2016
Plan to enroll in an accredited college or university as a full-time student in Fall 2016
How to Apply:
For applying the scholarship, the candidates must fill the application form. The link is:
http://get2college.org/wp-content/uploads/2015/08/Scholarship-App-2015-16.pdf
Supporting Documents:
The candidates must answer the following two questions on a separate sheet and submit with the application. Word count for each question is 250.
List your top three colleges to which you have applied or will apply. How did you select the college(s) to which you are applying? How did you determine that your choices are good fits socially, academically, and/or financially?
How do you envision your freshman year, and where do you see yourself in one year? What will be your biggest challenges transitioning from high school to college, new opportunities, and/or anticipated campus involvement?
Submitting Details:
The candidates can submit their application and answers to questions in one of these three ways:
Complete and submit the application online at get2college.org
Scan and email your application to [email protected] or
Mail your completed application to get2college scholarship competition, 2600 lakeland terrace, jackson, ms 39216
Award Amount:
The 100 winners will receive $1,000 which will be sent to the college or university of their choice.
Application Deadline:
The scholarship application form along with answers to questions can be submitted by December 1, 2015.
Link for More Information:
http://get2college.org/wp-content/uploads/2015/08/Scholarship-App-2015-16.pdf
Contact Information:
If you have any question regarding the scholarship you can chat live at get2college.org, call 601.321.5533, or email info-at-get2college.org.