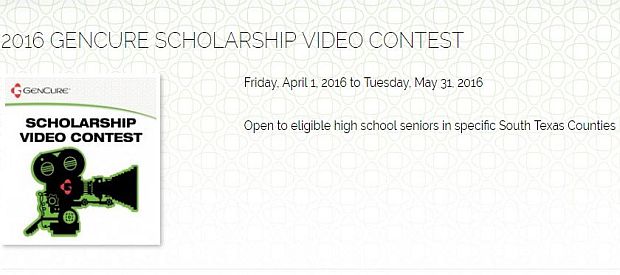 Are you looking for additional sources of financial aid? GenCure is glad to invites high school seniors to apply for "Annual Scholarship Video Contest." GenCure applies advances in regenerative medicine to help heal patients suffering from trauma, disease or the aging process. The given contest is open to eligible high school seniors in specific South Texas Counties (as mentioned below). If you get selected you will get a chance to win $1,000 amount.
Services of Gencure include providing cord blood and related tissues, and peripheral blood stem cell collection services to support the new generation of immune-based therapies
Eligibility:
All applicants must be an enrolled senior in the 2015-16 school year in a high school within one of these Texas counties: Atascosa, Bandera, Bee, Bexar, Brooks, Cameron, Comal, De Witt, Dimmit, Duval, Edwards, Gillespie, Goliad, Gonzales, Guadalupe, Hidalgo, Jim Hogg, Jim Wells, Karnes, Kendall, Kenedy, Kerr, Kimble, Kinney, La Salle, Live Oak, Maverick, McMullen, Medina, Nueces, Real, Refugio, Rio, San Patricio, Starr, Uvalde, Val Verde, Victoria, Webb, Willacy, Wilson, Zapata, Zavala.
How to Apply:
The application form for the given scholarship is available by the given link: http://gencure.org/sites/default/files/2016_scholarship_application_form.pdf
Supporting Documents:
Supporting documents include:
In order to be a part of this scholarship you have to upload 2-3-minute video that displays the importance of joining the "Donate Life Registry" as well as the role that tissue donation has in affecting people's lives.
Your signed assignment of copyright form.
Submitting Details:
Send the complete application package to scholarship-at-gencure.org
Award Amount:
First prize of $1,000 amount will be granted.
Application Deadline:
You can apply on or before May 31, 2016.
Link for more information:
http://gencure.org/scholarship