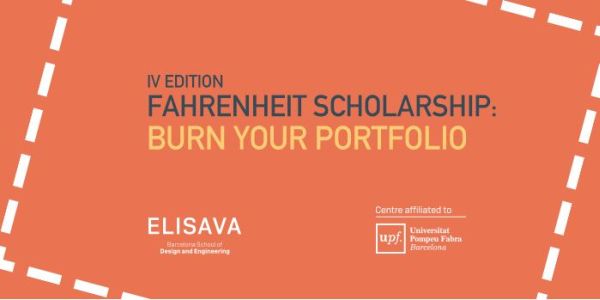 ELISAVA Barcelona School of Design and Engineering announces the 4th edition of the Fahrenheit Scholarship: Burn your portfolio, with the aim to reward and stimulate the creativity of young talents. The scholarship is open to people from any age, nationality and origin, rewards talent and stimulates creativity among young talents. These grants are awarded on a discretionary basis, based on the documentation received and the potential of development of the candidate.
ELISAVA promotes education, knowledge, research, development and innovation in the field of design, engineering and communication. The school offers a college education that prepares students to meet professional challenges worldwide.
Eligibility:
People of any age, nationality and origin can apply for this scholarship.
All former students who are part of the staff of the school with some sort of contract or collaboration as a teacher are excluded
How to Apply:
For applying the contest, you have to express your idea in the most effective and notorious way possible, and record it in 1 minute video. Think of an idea around the scenario proposed.
Submitting Details:
Send your project via the form attached on the website (the link of the video and your personal data).
Wait for the Jury's resolution on 19th April 2016.
Sending the link of your video (hosted on a platform video such as Youtube, Vimeo …) through the form attached on the website. The link is: com-elisava.com/fahrenheit2016/
Feel free to use any languages and formats you want.
In homepage, you must fill in the form with your personal data: name, surnames, email, phone and nationality. This form will also have a space to summit the link of your video.
Award Amount:
The winner of this scholarship will be able to course for free the Master's Degree in Design and Art Direction or the Master's Degree in Advertising Design and Communication, valued at 8,750€ each.
Application Deadline:
The application packet must be submitted by April 12, 2016, at 23:59 Spanish time (UCT + 1).
Link for More Information:
http://www.elisava.net/en/master-and-postgraduate/fahrenheit-scholarship-burn-your-porfolio