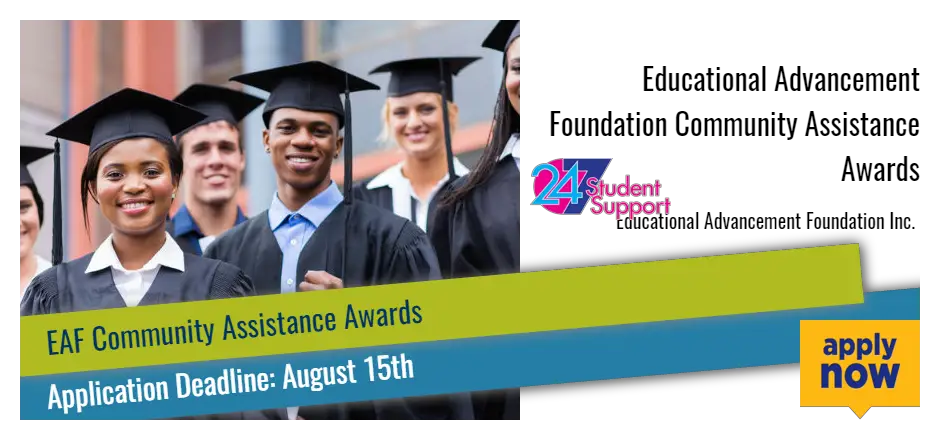 The Alpha Kappa Alpha Educational Advancement Foundation, Inc. (EAF) provides funds to advance education in fulfillment of its mission: "To promote lifelong learning." The Community Assistance Awards is available to full-time students who are currently enrolled at an accredited degree-granting institution. The Foundation is a source of support to graduate students, post freshman students and nonprofit organizations serving diverse beneficiaries. Community Assistance Awards are awarded to assist individuals and organizations for a specific civic, educational or human service program or project.
The Educational Advancement Foundation was founded in 1980 by Alpha Kappa Alpha Sorority, Inc., an organization with a rich and distinguished history of service that spans nearly a century. Today, the Foundation, a financially strong and viable organization, is a powerful tool for good, pooling the resources of others who share this vision of providing a perpetual source of support for education.
Eligibility:
Be a full-time (depends on your school's qualifications)
Be currently enrolled student at an accredited degree-granting institution. Online and accelerated classes are accepted.
Must plan to continue their academic pursuits in the fall of the grant year.
Demonstrated exceptional academic achievement/or financial need.Leadership, volunteer, civic and academic services.
How to Apply:
To apply, the applicant can submit online application through the given link: https://donate.akaeaf.org/scholarship-login
Supporting Documents:
The applicant must submit all the following:
Two letters of support and other supporting documents, double-spaced.
Budget: The budget must include:
Total funds for the project/activity
Delineate the use of requested funds
Funds from other sources (if applicable)
Narrative: not to exceed five (5) typewritten pages should include:
Name of project/activity
Need or rationale
Objectives
Procedure
Number of participants assisted by this program
Target audience
Relationship to Alpha Kappa Alpha Sorority, Inc. program priority
Expected benefits
Method of evaluation (with proper timeline)
Additionally, provide a copy of your IRS 990 or audit.
Financial Aid and Award Money:
Community Assistance Awards are one-time awards to non-profit organizations implementing projects addressing one of the programmatic thrusts of Alpha Kappa Alpha Sorority, Inc.:
Educational Enrichment
Health Promotion
Family Strengthening
Environmental Ownership
Global Impact
Awards range from $1,000.00 to $3,000.00
Award Information – Qualified expenditures include: Tuition, room/board, coursework fees, books and supplies (paper, notebooks, computers, electronic media, etc), local transportation (e.g., to/from/at school), including bus fare, mileage auto expense, parking, and tolls.
Application Deadline:
Community Assistance Awards applications are due on August 15, 2017, at 11:59 PM CST. The awards will be announced in November of 2017.
Link for More Information:
https://akaeaf.org/uploads/files/CommunityAssistAward2017.pdf
Contact Information:
If you have any question, contact by e-mail: akerr-at-akaeaf.net