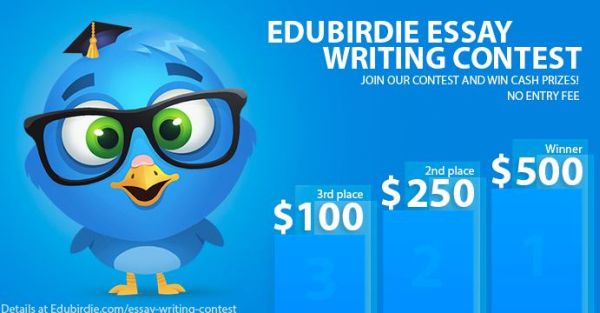 Are you a person, who has ideas about stuff? Can you write your thoughts clearly and in a fun way? If yes, Edubirdie is eager to support and inspire writers of any kind through the Essay Writing Contest. The sole purpose of this essay writing contest is to discover the most talented essay writers and promote their creativeness and writing skills. By entering our Superb Writing Contest, you will get your work published on the Edubirdie and shared on our social media profiles.
EduBirdie is your essay chef. They cook your materials and transform it into delicious essays. Edubirdie is made to present you with a classic blue display with clear descriptions of complete services.
Eligibility:
Edubirdie welcomes any and every enthusiast to participate in Essay Writing Contest.
How to Apply:
Applying for the essay contest, the candidates must submit an essay on one of the following topics:
• Insufferably rich C students
• Pros and cons of immigrant issue (argumentative essay)
• The place on Earth where you won't come for any money in the world
• Immigrant experience
• Academic dishonesty – a way to a successful career or college expulsion
• Immigrant days and immigrant ways: Effects of Illegal Immigration
Essay Guidelines:
• Up to 1,500 words maximum. There is no word minimum, though.
•Submit the essay in one of the following file types: Word (.doc, .rtf, .odt, and .docx).
• Feel free to use images if you hold rights for their distribution and/or can provide full credit to the owner. Please note that the picture should be relevant to the topic.
• Your name must not appear anywhere in the story. Instead, please provide your full name, valid email address and social media id/handle on a separate page of your submission.
• The essay should be submitted in English language only at a maximum of 1,500 words.
• Your submission should not contain any offensive, defamatory, or harassing content. Otherwise, you will be disqualified.
• All entries should be original and free of plagiarism! Each essay will be checked with a professional plagiarism checker and any non-unique piece will be declined.
Submitting Details:
• Send your finished, proper-formatted submission as a Word Document attachment to: contest-at-edubirdie.com
• After submitting your essay, visit their Facebook or Twitter or Instagram and repost the "Superb Contest" post on your page or twitter account.
Award Amount:
A total of 3 prizes will be made available during Contest:
• Winner – $500
• 2nd place – $250
• 3rd place – $100
Application Deadline:
Submissions are accepted from June 5 through July 15, 2016. The finalists will be announced on 25 July 2016 through our social media accounts.
Link for More Information:
http://edubirdie.com/blog/essay-writing-contest-june