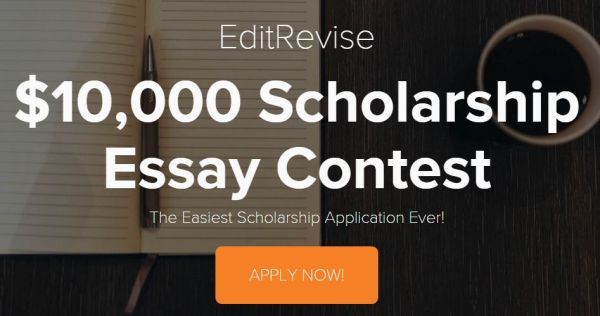 Do you want to win $10,000? EditRevise is pleased to announce the Scholarship Essay Contest for the students who are aged 16 years or older and who are currently applying for a program in United States.
The mission of EditRevise is to improve your writing. They do this by providing writing tips and advice as well as and an editing service to provide you feedback on your writing.
Eligibility:
Contest entrants and prize recipients must be follow the given criteria:
Aged 16 years or older at the time of entry to be eligible
Currently applying for a degree, diploma, or certificate seeking program within the United States of America. Void where prohibited by law. Contest subject to all applicable federal, state and local laws and regulations
You must be applying for an undergraduate degree for enrollment at an accredited institution within the United States or Canada in 2016 (or 2017 if taking a gap year)
GPA doesn't matter. Your activities and accolades don't matter. Only your essay, recommendations, and a 1 hour interview (for the top 10 essays) matter
Officers, directors and employees of sponsor and their respective parent companies, subsidiaries, affiliates and divisions are not eligible to enter the contest or win a prize
How to apply:
For applying the scholarship, the candidates must submit an essay and a recommendation via web form on the Contest recommendation page during the Entry Period.
The candidates can check more details for scholarship program through the given link:
https://editrevise.com/scholarship/terms/
Award Amount:
The essay contest provides the following awards:
Grand Prize:$10,000 Scholarship
2nd Place:$1,000 in EditRevise credits
3rd Place:$500 in EditRevise credits
4th – 10th Place:$100 in EditRevise credits
Many other great prizes to be announced soon
Application Deadline:
Entry Period for scholarship application starts from August 11th, 2015 until 11:59 PM ET on January 15th, 2016.
Link for More Information:
https://editrevise.com/scholarship/
Contact Information:
To ask any questions about Contest, or to request the names and hometowns of the Prize Winners, you can write to Editate Inc. at scholarship-at-editrevise.com or 83 Maple St., Rutherford, NJ 07070.