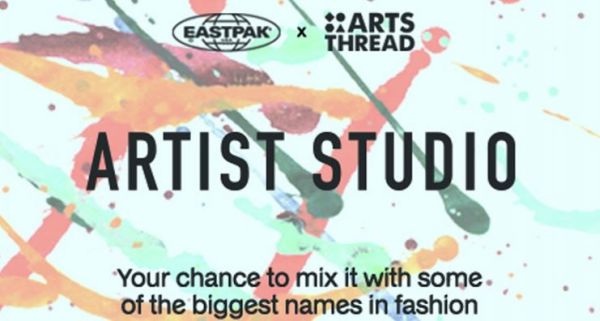 Want to sit alongside ten of the world's most celebrated designers and artists, such as Jean-Paul Gaultier and Manolo Blahnik? Want to be part of a ground-breaking project that could just be the launch pad for your career? If yes, Eastpak Artist Studio Wildcard Competition is the perfect chance to unleash your creative energy and carry your ambition to the edge. Each year, a selection of the world's most inspired designers are invited to apply their creative vision to transform for free a blank Eastpak® backpack into a unique work of art.
Eastpak Artist Studio is a joint initiative of the lifestyle brand Eastpak® and the charity organization Designers Against AIDS.
Eligibility:
Open to International students from any country
Open to all students and recent graduates of Fashion or Textile Design, provided they are not yet full-time employed in the industry and graduated after summer 2013
Anyone who graduated from an undergraduate or postgraduate degree in fashion or textile design by the summer of 2013 provided they are not yet fulltime employed in the fashion industry.
Any current students of fashion or textile design. Entry to this international competition is open to people from any country around the world.
How to Apply:
To be entering the contest, you have to register through the given link and upload your project. Participants are invited to submit their design concept (The 'Work') based on the transformation of a blank Padded Pak'r® backpack. "Transformation" should be interpreted in the broadest sense and may include decorating, covering or even reconstructing the bag, provided the Eastpak Artist Studio logo remains intact and visible.
http://www.artsthread.com/register/
Entries Must Include:
A mood board illustrating the inspiration behind the design
Sketches of the design itself
Full technical specifications (materials, dimensions, etc.)
All images should be high-res JPEG files – minimum 1000 pixels high.
Award Amount:
There will be three finalists. The prizes shall consist of the following:
A budget of €400 and two original Eastpak Artist Studio blank Padded Pak'r® backpacks with which to produce a working prototype of their design
Eastpak gear of choice valued at €300
There will be one ultimate winner whose creation will be included in the Eastpak Artist Studio communication platform. This creation will be auctioned off with all proceeds being donated to charity (www.designersagainstaids.com).
Application Deadline:
The Competition opens on April 4, 2016 ("Opening Date") and closes at midnight on June 30, 2016 ("Closing Date").
Link for More Information:
http://www.artsthread.com/competitions/eastpakartiststudiowildcardcompetition/DesignersAgainstAIDS