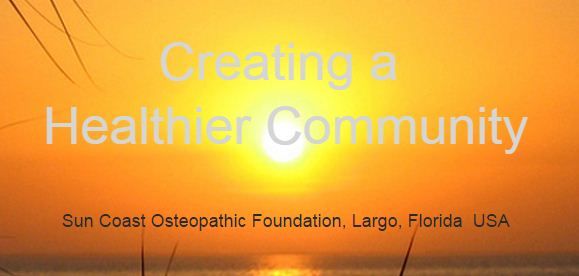 Sun Coast Osteopathic Foundation is pleased to announce the 2016 Dr. Alan J. Snider Memorial Scholarship Competition. The Competition is open to any osteopathic student after the completion of one year of training at an accredited school of Osteopathic medicine. The Foundation is awarding a minimum of five (5) general scholarships of $1,000 during the 2016 program year.
The Sun Coast Osteopathic Foundation, formerly named Sun Coast Hospital Foundation, is a 501(c) 3 non-profit organization. The Foundation is focused on our vision of "Creating a Healthier Community."
Eligibility:
The applicant must be a resident of the State of Florida prior to medical school admission, favorable weight will be given to those from the West central area of the state.
Open to osteopathic medical students in their second or third year of medical study at an accredited school of osteopathic medicine
How to Apply:
For applying the scholarship, you must complete the scholarship application form. The form can be completed on-line or you can also download it through the given link:
Supporting Documents:
A "Dean's Letter" from the Osteopathic medical college attended.
The most recent transcript of grades from the Osteopathic medical school attended.
A letter of recommendation from an instructor in the osteopathic medical college attended.
A letter from the financial aid officer of your school explaining your need for financial assistance.
Proof of Florida Citizenship (prior to medical school admission).
Passport size photograph of applicant.
Submitting Details:
The completed application packet can be mailed to:
Sun Coast Osteopathic Foundation,
ATTENTION: Scholarship Committee,
2101 Indian Rocks Rd, Largo, FL 33774
Award Amount:
The Foundation will award a minimum of five (5) general scholarships of $1,000.There may also be other, runner-up awards, dependent on the total scholarship monies available for distribution
Application Deadline:
The application deadline is March 15, 2016.
Link for more Information:
http://www.suncoastosteopathic.org/do-educ-scholarships.html