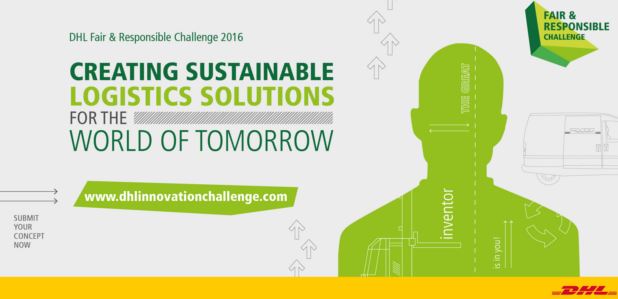 Make your idea reality with the world's leading logistics company. DHL has launched two innovation challenges and invites inventors and visionaries across the globe to participate. The DHL Innovation Challenge invites you to come up with original ideas and practical solutions that addresses and solve the environmental and social challenge with new and innovative logistic-based business models.
Fair & Responsible Logistics embraces the idea that doing welcomes from doing good. The highest numbers of votes are awarded as winners of the DHL Innovation Challenge, and will receive a monetary prize out of a pool of combined €20,000.
Eligibility:
The competition is open to anyone who is at least 18 years of age on 14th September 2016.
Employees, officers, and directors of Deutsche Post DHL Group, its subsidiaries, affiliates, franchisees, advertising and promotion agencies, and anyone involved in the production or administration of the competition, and any members of their immediate family or household are not eligible. How to Apply:
How to Apply:
The candidates must complete that enter form through the given link: https://www.dhlinnovationchallenge.com/roboticschallenge/participate#form
All submissions must include a full description of the prototype in a document written in plain English and up to a maximum of 500 words.
All submissions must also include a link to the video content of the prototype in an animation or presentation in plain English and up to a maximum of 3 minutes in length. This video content should outline the problem and explain the solution.
Submitting Details:
The entry materials (document and the video content) must be submitted via www.dhlinnovationchallenge.com.
Award Amount:
The winning entrant will receive a prize of €10,000 and their winning idea will be exhibited at the DHL Innovation Center in Germany.
Additional prizes of €3,000 for the second and €2,000 for the third runner-up.
Also, they will have the opportunity to discuss with logistics professionals how to materialize their idea into a potential proof of concept.
Application Deadline:
Entry begins at 10 am Greenwich Mean Time (GMT) on May 30, 2016, and ends at 5 pm GMT on September 14, 2016.
Link for More Information:
https://www.dhlinnovationchallenge.com/roboticschallenge/rules#terms