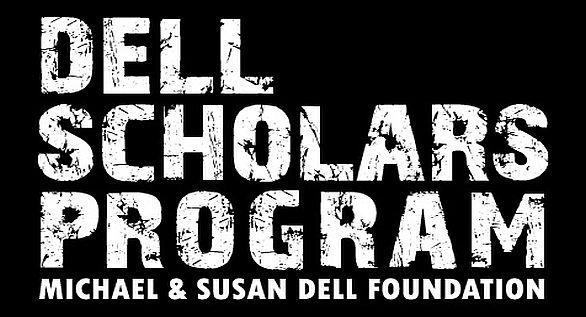 The Dell Scholars program, an initiative of the Michael & Susan Dell Foundation, recognizes students who have overcome significant obstacles to pursue their educations. The Dell Scholars Program places greater emphasis on a student's determination to succeed than just academic record and test scores.  300 scholarships are awarded annually of $20,000 amounts to students for full-time study to complete a bachelor's degree program. Scholarship funds may be used for tuition, fees, books, and room and board.
Michael and Susan Dell established the foundation in 1999. Their vision is to focus on opportunities with the greatest potential to directly and measurably transform the lives of children living in urban poverty.
Eligibility:
To be eligible to apply for the Dell Scholars Program scholarship, you must meet the below listed criteria:
All applicants must be United States citizens or have an immigration residency status that allows the applicant to qualify for federal financial aid after completing the FAFSA.
Participating in a Michael & Susan Dell Foundation approved college readiness program (https://www.dellscholars.org/scholarship/college-readiness-programs/) in grades 11 and 12
Graduating from an accredited high school this academic year
Earning a minimum of a 2.4 GPA
Demonstrated need for financial assistance
Eligible to receive a federal Pell grant in the first year of college
Planning to enroll full-time in a bachelor's degree program at an accredited higher education institution in the fall directly after your graduation from high school
How to Apply:
You can "Login" to work on an existing application, or "Register" to start a new application.
Supporting Documents:
Semifinalists are asked to submit the following:
Submit a current copy of their high school transcript,
Complete Student Aid Report (SAR) from their FAFSA, and
An online recommendation
Award Amount:
Financial support of $20,000, a laptop and textbook credits will be given to the winning candidates. They are also providing ongoing support, assistance to address all of the emotional, lifestyle, and financial challenges that may prevent scholars from completing college.
Application Deadline:
January 15, 2017 is the application deadline.
Link for More Information:
https://www.dellscholars.org/scholarship/criteria/