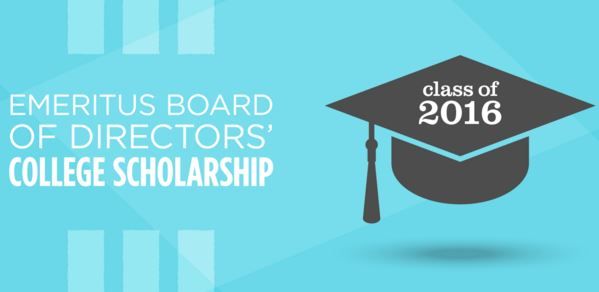 Emeritus Board is made up of former CommunityAmerica board members. In their honor, CommunityAmerica Credit Union sponsor scholarships that emphasize, recognize and reward volunteerism among their members (in good standing) and member's children or grandchildren. Three scholarships of $1,000 each will be given to the winning candidates.
As one of the largest financial institutions in the Kansas City area, CommunityAmerica gives their members financial peace of mind—so they can stop worrying and start living a life full of wealth.
Eligibility:
To be eligible for judging an entry must meet the following content / technical requirements:
You are a legal resident of the 50 United States (including the District of Columbia)
You are at least eighteen (18) years of age or older at the time of entry
You are a current Member of CommunityAmerica Credit Union, or you are the child/grandchild of a current Member
The accounts used as a basis of eligibility have been in good standing with the credit union for at least 6 months preceding the Contest
You are presently a high school senior, or its educational equivalent, during the 2015-2016 school year (home-schooled students are eligible)
You are planning to enroll in a U.S.  Department of Education accredited college or career school ("Accredited Institution") for the Fall term of 2016
You are NOT an employee of CommunityAmerica Credit Union or an employee of a CommunityAmerica Credit Union subsidiary
You are NOT involved in any part of the administration and execution of this Contest; and
You are NOT an immediate family (parent, sibling, spouse, child, grandchild) or household member of a CommunityAmerica Credit Union employee, an employee of a CommunityAmerica Credit Union subsidiary, or a person involved in any part of the administration and execution of this Contest
How to Apply:
 Submitting Details:
Shoot your video. Remember creativity counts
Upload video to YouTube.
Complete entire application, including the YouTube link
Email application to Amanda Clark at aclark-at-cacu.com.
Award Amount:
Each of the three (3) Contest Winners will receive one (1) check from CommunityAmerica in the amount of $1,000.00 made payable to an Accredited Institution designated by and for the benefit of each Contest Winner.
Application Deadline:
All entries must be received no later than May 6, 2016 at 5 pm CST.
Link for More Information:
https://www.communityamerica.com/emeritus