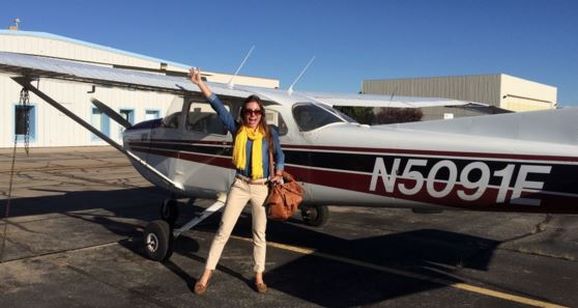 The Colorado Chapter of Ninety-Nines is offering Future Woman Pilot Scholarship. The scholarship is open to a woman pilot in Colorado to complete her primary (very first) pilot certificate-Recreational Pilot, Sport Pilot, or Private Pilot. The award is for flights and flight instruction in any aircraft type-airplane, glider, hot air balloon, etc., as appropriate for the certificate. This year they are awarding two $2000 scholarships to woman pilots in Colorado.
The Ninety-Nines is the international organization of women pilots that promotes advancement of aviation through education, scholarships, and mutual support while honoring our unique history and sharing our passion for flight.
Eligibility:
To be eligible, each applicant must:
Be female
Undergo flight training in Colorado
Currently hold a Student Pilot Certificate (if required for the certificate sought)
Have already soloed
Have logged at least 10 hours of flight time
Have passed the written exam for the certificate sought
How to Apply:
For applying the scholarship, the candidates can download scholarship application form by link below:
http://www.colorado99s.org/ScholarshipApplication2016.pdf
Supporting Documents:
The candidates must submit following documents:
Student pilot certificate (both sides), if required for the certificate being sought, and driver's license (both sides)
Logbook entries documenting first solo, 10 hours flight time, flight time in last 60 days, total flight hours logged, cross-country flights (if any), and all instructor endorsements
Written exam results
Letter from applicant describing her financial need and aviation goals (less than 200 words) 4.
Letter of recommendation from flight instructor (less than 100 words)
Submitting Details:
You can submit the application form along with supporting documents one of the following ways:
You can email attachment to colorado99s-at-aol.com
You can mail to:
Colorado Chapter Ninety-Nines
3379 Mill Vista Rd Unit 4303
Highlands Ranch CO 80129-2421
Award Amount:
The Colorado Chapter of The Ninety Nines is offering two $2000 scholarships.
Application Deadline:
Deadline for submissions the application form is April 30, 2016.
Link for More Information:
http://www.colorado99s.org/scholarship.htm
Contact Information:
For specific questions, you can email Babette Andr?e at scholarship-at-colorado99s.org