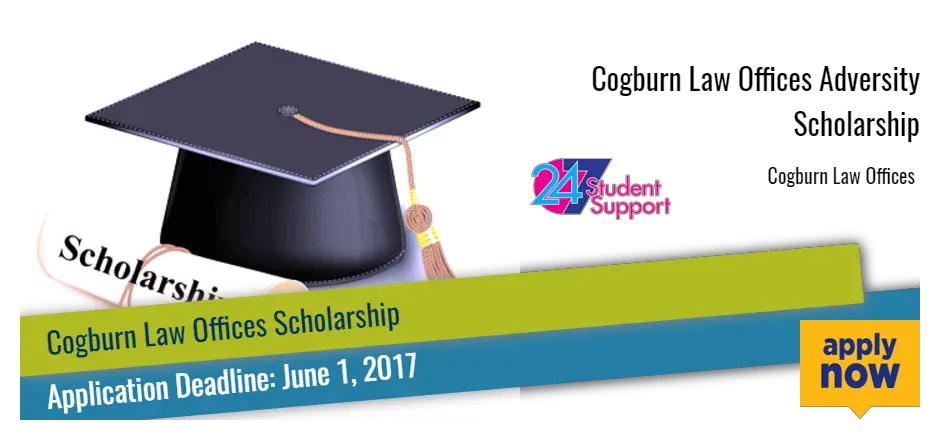 Cogburn Law Offices provides opportunities for students to apply for this Cogburn Law Offices Adversity Scholarship. U.S. residents who will be enrolled full-time in an accredited community college, college or university can apply for the scholarship program. Cogburn Law Offices offers a broad range of services, with an emphasis on personal injury and consumer law. The student who will win the scholarship, receive one $5,000 need-based scholarship.
Cogburn Law Offices is dedicated to providing residents of Clark County and the surrounding areas with powerful legal representation for a wide variety of injury cases. The firm was established in 2005 with the intention of protecting the rights of injured victims and their families.
Eligibility:
To be eligible for this scholarship, you must:
Any US citizen or permanent US resident
Who will be enrolled full-time in an accredited community college, college or university, or accredited law school
How to Apply:
Applicants can go to the given link and download the application form: http://cogburnlaw.com/scholarship/
Applicants must submit the best original essay demonstrating his or her resiliency in overcoming a life-changing adversity. (Maximum 2,000 words) and can also submit a video of up to two minutes in lieu of an essay.
Supporting Documents:
To complete your application, submit the following supporting documents:
The student must complete the online application which appears below by June 1, 2017.  Applications submitted via any other channel will not be considered.
The applicant must write an essay (maximum 2,000 words) or submit a video (maximum of 2-minutes) on the topic below.
The student must submit FAFSA results to verify need and must provide proof of enrollment should his or her essay or video be selected.
The winner must consent to the use of his or her picture and other basic information on the winner page of the cogburnlaw.com website.
Financial Aid and Award Money:             
The candidate who will win the scholarship program will receive a one-time scholarship award in the amount of $5,000.
Application Deadline: 
The deadline for all materials to be submitted is June 1, 2017.
Link for More Information:
http://cogburnlaw.com/scholarship/