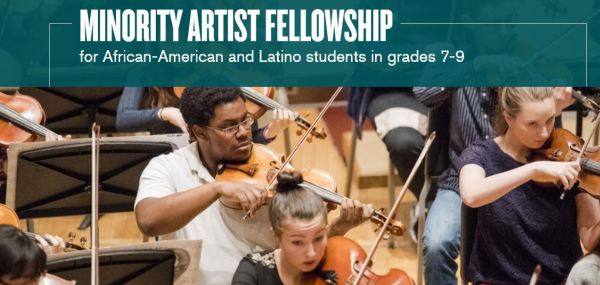 The Cleveland Institute of Music (CIM) with the support of the Cleveland Foundation and the George Gund Foundation is pleased to announce the Minority Artist Fellowship (MAF) Program for grades 7-9 students. The fellowship program is designed for African-American and Latino students who are seeking a career in music. CIM provides students with an extraordinary learning environment, dedicated to building a career in music. MAF students and parents will receive on-going support to develop the musical talents of participating students through workshops, master classes, and mentorship. Through the program, the CIM will provide a full scholarship to fellows that covering all areas of study in the MAF program.
The Cleveland Institute of Music (CIM) was founded in 1920, is one of seven independent music conservatories in the country. In support of this mission: CIM is committed to the education of the complete musician who has a firm mastery of the classics, as well as the opportunity to experience the creation and performance of new and recent repertoire. It is a premier conservatory devoted to training the next generation of classical musicians.
Eligibility:
To be eligible,
Applicant must be African-American and Latino music students
Applicant must be grades 7-9 students who are seeking a career in music
How to Apply:
To apply the applicant can download the application through the given link:  https://www.cim.edu/sites/default/files/pdf/2017-07/Minority_Artist_Fellowship_Apply.pdf
Audition requirements: applicants will be asked to play two contrasting solo pieces of their choice or one extended work which demonstrates contrasting styles.
Evaluation: Students will be evaluated based on current proficiency, desire to pursue classical music throughout high school and in college, and observed potential.
Submitting Details:
Email the application to [email protected]
Or mail it to:
Madeline Lucas
Cleveland Institute of Music
11021 East Blvd.
Cleveland, OH 44106
Financial Aid and Award Money:
The MAF program provides exceptional artistic training delivered by CIM faculty in the areas of one-on-one lessons, ensemble participation, music theory, and eurhythmics.
Fellows will receive a full scholarship covering all areas of study in the MAF program.
The program will provide ongoing, multi-year support to students, including comprehensive music instruction through high school, with a goal of preparing students to enter Conservatory or another university music program upon graduation.
The inaugural class of MAF students and parents will:
Take weekly lessons and music classes with CIM faculty
Participate in weekly ensemble rehearsals (optional)
Attend master classes and workshops
Participate in online and face-to-face surveys
Meet regularly with CIM mentors and MAF program leaders to set goals and provide feedback about the program
Be featured in performances, promotional programs, and audio and video recordings
Upon receipt of the completed application, you will be assigned a time to complete an audition and interview with CIM faculty mentors on Tuesday, August 22, between 6–9 pm at CIM, 11021 East Blvd, Cleveland, OH 44106.
Application Deadline:
Students must submit the one-page application with teacher and parent signature by Monday, August 14, 2017.
Link for More Information:
https://www.cim.edu/minority-artist-fellowship