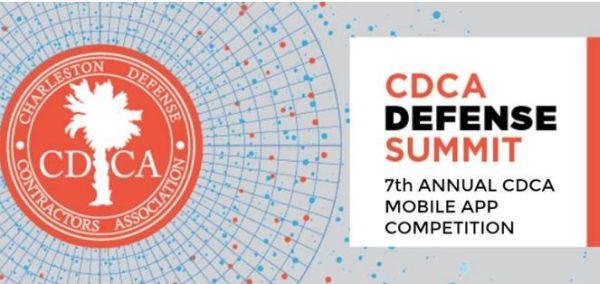 The Charleston Defense Contractors Association (CDCA) is pleased to announce the 7th Annual Mobile Application Development Competition. The CDCA Mobile App Competition is open for participation to all Middle School, High School and full-time undergraduate and graduates college students.The competition will accept creative ideas for unique applications that are able to run on either iOS phone or Android platforms.The Competition is an annual competition to promote science, technology, engineering and mathematics (STEM) education and careers to young people in the United States.The focus of the Competition is to stimulate creative thinking and promote the entrepreneurial spirit while offering development support, marketing expertise, mentorship, and guidance for the participating students.The CDCA will provide up to $10,000 in their awards and scholarships.
The Charleston Defense Contractors Association, or CDCA, was formed and incorporated as a South Carolina Corporation on 4 December 2002. On December 4, 2002, CDCA received a Certificate of Incorporation as a Nonprofit Corporation in the State of South Carolina. CDCA received its 501(C)(6), business league organization, tax exempt status on 11 April 2003. The general purpose of the CDCA is to address issues and opportunities facing the Charleston, South Carolina defense community.
Eligibility:
The competition is open to individuals or teams of middle, high school and full-time, undergraduate and graduates college students.
Students in middle school, high school, undergraduate or postgraduate institutions of higher learning.
Any entry containing sexual, violent, abusive, harassing, offensive, or insulting content will be disqualified.
How to Apply:
To apply, the applicant must follow the student submission process as the following:
Submit a letter of Intent form on the given link: http://www.charlestondca.org/CDCAMAC#nodesinblock-1487
Create your app
Create a short description of what your app is trying to accomplish and why. (no more than 600 characters)
Write about any difficulty you faced in programming your app and how you overcame it. (no more than 1500 characters)
Share improvements you would make if you were to create a version 2.0 of your app. (no more than 750 characters)
Supporting Documents:
Proof of student status is required (i.e., student ID).
Submitting Details:
Submit app by email to AppChallenge-at-charlestondca.org
Completeapplicationvia the email above or mail to:
Charleston Defense Contractors Association
PO Box 61089
North Charleston, SC 29419-1089
Email- AppChallenge-at-charlestondca.org
Financial Aid and Award Money:
At the Charleston Defense Contractors Association (CDCA),$10,000 in prize money and scholarships available that will be given to winners and their schools.
Application Deadline:
To be considered for the awards, the Letter of Intent must be received by October 27, 2017.
The Application must be received on or before November 15, 2017, by 11:59 pm Eastern Standard Time (EST)
Winners announced at the CDCA Defense Summit: Dec. 7, 2017.
Link for More Information:
http://www.charlestondca.org/CDCAMAC
Contact Information:
If you have any question, contact at AppChallenge-at-charlestondca.org