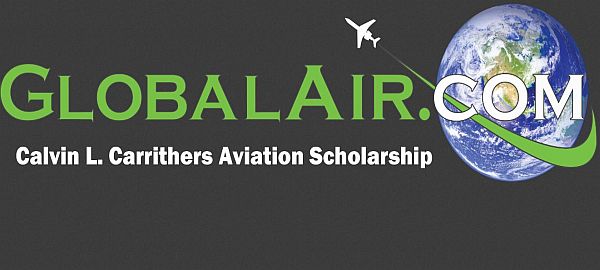 GlobalAir.com wish to provide a scholarship that is beneficial to the student, as well as provide a platform for students to share their experiences while training for a successful career in aviation. Hence, they are accepting applications for their Calvin L. Carrithers Aviation Scholarship Program. The purpose of scholarship is to provide $1,000 annually to four American students who are dedicated to blogging on a weekly basis about flight training, flying, school and their interest in aviation. Have fun with this opportunity, and share your invaluable experiences with the world.
Launched in 1995, GlobalAir.com is one of the largest aviation Web sites on the Internet. The blog provides aviation articles on aviation news, aircraft information for pilots, general aviation news, business aviation news, airport information and much more.
Eligibility:
Applicants must be U.S. citizens
Candidates are currently enrolled in a fully accredited university aviation program (Commercial Aviation, Professional Pilot, Aviation Management, Airport Management, etc.) within the United States.
How to Apply:
The Calvin L. Carrithers Aviation Scholarship application period for the 2016-17 academic year is now open. Interested candidates can apply on-line through the given link: https://www.globalair.com/scholarships/
Supporting Documents:
Applicants must write a 200-500 word blog post a minimum of once a week throughout the school year while at school. Posts can be about aircraft, flying, ground training, weekend activities, internships, or anything that the student finds interesting and pertains to life in their particular aviation program.
Letter of Recommendation
Award Amount:
The scholarship award of $1000 will be distributed in increments of $250 throughout the course of the academic year. The scholarship curator will give you a schedule of payments if selected.
Application Deadline:
The deadline for application submission is August 14, 2016.
Link for more Information:
https://www.globalair.com/scholarships/
Contact Information:
If you have any questions at all about what is expected of you, feel free to contact scholarship representative at Lydia.Wiff-at-globalair.com or call 612-867-4718.