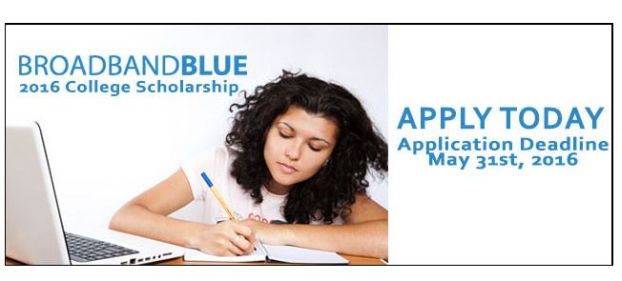 Funding your next level education is not easy, but Broadband Blue is here to help as they are officially announcing the $500 Broadband Blue Social Scholarship. The scholarship is designed specifically to help high school seniors, undergraduate and graduate students pay for some of their college expenses. The scholarship award must be applied to school expenses (including but not limited to tuition, books, fees and on-campus housing fees) during the 2016-2017 school year.
BroadbandBLUE is the only high-speed Internet solution that gives you video streaming capabilities and online gaming. You can do it all with our unlimited Internet service.
Eligibility:
You can apply for the Broadband Blue Social Scholarship if you:
Are United States citizens or a permanent legal resident of the U.S.
Are a full-time student enrolled in an undergraduate or graduate-level degree program at an accredited college or university
Are a high school senior planning to attend college in Fall 2016.
Have a current grade point average (GPA) of 2.5 or higher.
Are not employees of or related to an employee of Broadband Blue.
How to Apply:
To apply for the Broadband Blue College Scholarship, please write an original blog post on the following question:
How technology has changed your relationships with other people?
Do you consider your interpersonal connection better or worse with the innovations of texting, Twitter, Facebook, and other social media platforms?
Relate it your own life, if possible.
Create an original blog post of at least 500 words, but no more than 1,000 words in length on any blog or website. Special consideration will be given to candidates who include interactive media (photos, videos, etc.) in their posts
In the body of the blog post, include a link back to the official Broadband Blue website (broadbandblue.com)
Once you have completed these steps, complete the form
Submitting Details:
You must submit your application to scholarship-at-broadbandblue.com using your official school email address. Include your name and "Social Scholarship Application" in the email subject line and include the following information in the content of your email:
Your first and last name
Your degree program and expected graduation year
A valid phone number and email address where you can be reached
The full name of your high school, university or college
The URL address where your application essay is published
Award Amount:
A one-time $500 scholarship will be awarded to the winning candidate.
Application Deadline:
The complete application must be submitted before the deadline of 11:59PM on May 31st, 2016.
Link for More Information:
http://www.broadbandblue.com/scholarship
Contact Information:
Email scholarship-at-broadbandblue.com with additional questions, comments and inquiries about the Broadband Blue College Scholarship.