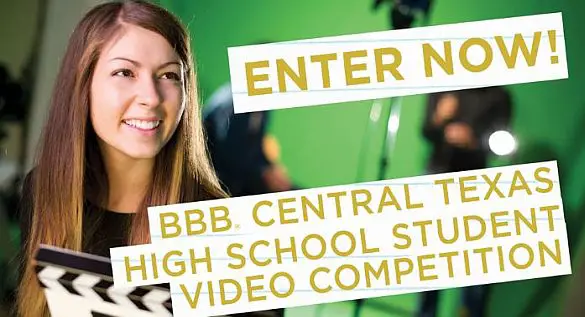 BBB serving Central, Coastal, Southwest Texas and the Permian Basin is hosting the 2017 Student Video Contest as a means to advance trust in the community. BBB serving Central, Coastal, Southwest Texas and the Permian Basin (BBB Austin) is the local host of the contest. "Start with Trust" is tagline of this year and BBB's mission is to be the leader in advancing marketplace trust. BBB's student video contest gives students the opportunity to work with a trusted brand, and acquire practical skills in advertising, audio/video technology, and graphics, marketing and messaging.
Better Business Bureaus Organization helps people find and recommend businesses, brands and charities they can trust.
Eligibility:
The Better Business Bureau (BBB) Central Texas High School Student Video Competition is open to all high school students (grade 9-12) in the Round Rock Independent School District and Austin Independent School District.
How to Apply:
For applying the video contest, the candidates must complete the entry form that can be easily downloaded from the given link:
https://www.bbb.org/globalassets/local-bbbs/austin-tx-40/austin_tx_40/content_page_images/rrisd-contest/bbb-student-video-contest-entry-form-revised.docx
Video Guidelines:
Student video theme: "Start With Trust"
Video must not exceed 30 seconds in length
Students may enter one (1) originally produced piece in the contest (a single student may not enter both an individual submission and a team submission – student must choose one or the other)
Entry must be material shot and created in 2017
Applicants are solely responsible for their film production – this includes getting the appropriate releases for all persons who appear on-camera, including minors and their parents/guardians
Videos received through mail must be on a flash drive and be in an MP4, .MOV, .AVI or .WMV format.
Award Amount:
Varies
Application Deadline:
The complete application packet must be submitted by February 24, 2017.
Link for More Information:
https://www.bbb.org/central-texas/programs-services/student-video-contest/
Contact Information:
If you have questions,you can contact Anastassia Mitchell at amitchell-at-austin.bbb.org