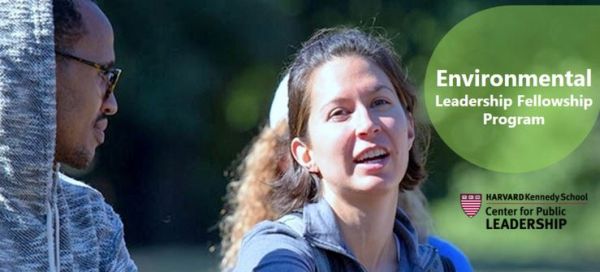 The Harvard Kennedy School Center for Public Leadership is offering an application for The Louis Bacon Environmental Leadership Program to connect fellows with highly accomplished national and international leaders. All admitted master's degree program students are eligible for the fellowship program. This program is a game-changing opportunity for scholars and practitioners eager to take up the mantle of environmental leadership and stewardship for the rising generation. A stipend up to $10,000 will be given for up to two years depending on their graduate degree program.
Through teaching and research, The Center for Public Leadership at Harvard Kennedy School is preparing this generation with the insights and practical skills necessary to address the world's most pressing problems.
Eligibility:
• The fellowship is open to applicants entering their first year of study in any of the Harvard Kennedy School's masters' degree programs.
• Students pursuing a joint degree at HKS and another Harvard graduate or professional school or those in concurrent programs at other approved universities or schools may also apply.
• The fellowship will be open to all admitted master's degree program students and will not discriminate on the basis of race, gender, sexual orientation, religion, age, disability, or national origin.
How to Apply:
For applying the fellowship, the candidates must submit the following documents:
Resume or Curriculum Vitae, not to exceed 2 pages in length.
A document containing written responses to the following two prompts:
Please discuss a topic you are passionate about and its personal significance (1,000 words or less).
Please discuss briefly your interest in the Louis Bacon Environmental Fellowship and how your experiences and goals have motivated you to apply (200 words or less).
Two letters of recommendation specifically supporting your candidacy for the Louis Bacon Environmental Leadership Fellowship. The letters must be in PDF form, signed by the referrer and on letterhead indicating the referrer's institution/organization. Recommendation letters must be received by the deadline date for the application to be considered.
Submitting Details:
All students' application materials can be submitted to the Financial Aid office: financial_aid-at-hks.harvard.edu.
Financial Aid and Award Money:
Louis bacon environmental leadership fellows are awarded a full tuition scholarship and health fees for up to two years, depending on the length of their graduate degree program
Fellows are eligible for a stipend of up to $10,000 for up to two years depending on their graduate degree program
Application Deadline:
Application deadline for the Bacon Fellowship is February 24, 2017.
Link for More Information:
http://cpl.hks.harvard.edu/bacon-environmental-fellowship
Contact Information:
If you have a question about submitting your materials or experience technical difficulties, please contact the Student Financial Services office at Financial_Aid-at-hks.harvard.edu or by phone at 617-495-1155.