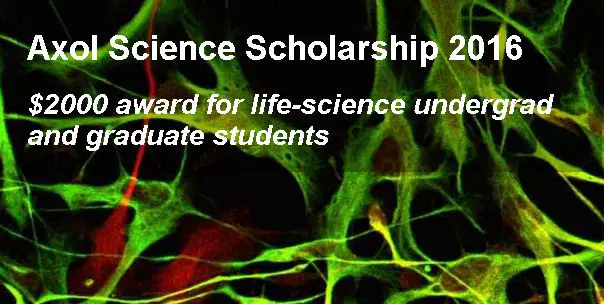 Axol Bioscience is excited to offer future the opportunity for life scientists to receive $2000 in funding for any life science related degree program. Application is invited by Axol Bioscience for science scholarship available for graduate and undergraduate programs.  Axol Bioscience specializes in human cell culture and offers a range of media and reagents to help you succeed.
Axol Bioscience has a passion for great science, delivering epic support and innovating future products to help our customers advance faster in their research.
Eligibility:
Applicants must be enrolled or accepted for a graduate or undergraduate degree (B.Sc or higher) for the 16/17 academic year at a recognized university
The degree program / research area must be in a life science field with a 'wet-lab' component (bench-based research such as molecular or cell biology).
Medicine, veterinary and pharmacy students are not eligible
Open worldwide
How to Apply:
The procedure of applying can be made by submitting the following documentation and information:
Your resume/CV,
Including undergraduate transcripts/grades
Written confirmation from a recognized university of enrolment or acceptance to a life science-related degree program
An original article of between 1000 and 2000 words written by you on a topical life-science subject, for example "The Future Application of Stem Cell Technologies in Neuroscience Research".
Submitting Details:
You can Email the documents at: scholarships-at-axolbio.com
Award Amount:
This Axol Science Scholarship is valued of $2000.
Application Deadline:
The closing date for application is July 1, 2016.
Link for More Information:
http://www.axolbio.com/page/axol-science-scholarship