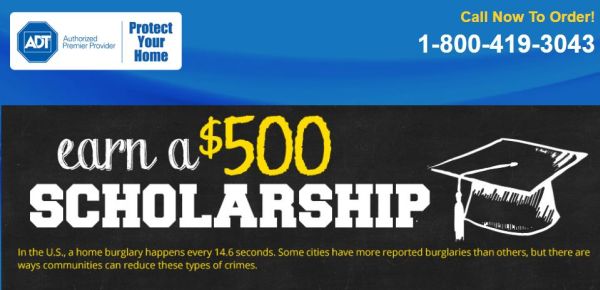 In the U.S., a home burglary happens every 14.6 seconds. Some cities have more reported burglaries than others, but there are ways communities can reduce these types of crimes. If you want to share your idea, the scholarship can be perfect option for you.  The scholarship is open to U.S. citizens who are enrolled full-time at an accredited college or university. $500 scholarship award will be given to the winning candidate.
Authorized Premier Provider (ADT) is the trusted security service for millions of homeowners throughout North America and has been helping protect families and homes for over a century.
Eligibility:
Applicant must be currently enrolled full-time at an accredited college or university.
Applicant must be a U.S. Citizen or permanent legal resident of the United States.
How to Apply:
To be considered for scholarship, you must write a 500-700 word essay describing your community programs to reduce crime.
What programs and strategies would you implement to better community?
How these would strengthen the city and improves its resident's safety?
Submitting Details:
Submit your name, email and essay to scholarship-at-choosehomesecurity.com. All applicants must send their contact details and essay in an attached word .doc to be considered.
Award Amount:
Scholarship recipient will receive a one-time $500 scholarship made payable to the student's approved college or university and mailed directly to the designated college or university.
Application Deadline:
The essay must be submitted by May 1, 2016. The winning entry will be announced September 30, 2016.
Link for More Information:
http://www.choosehomesecurity.com/scholarships