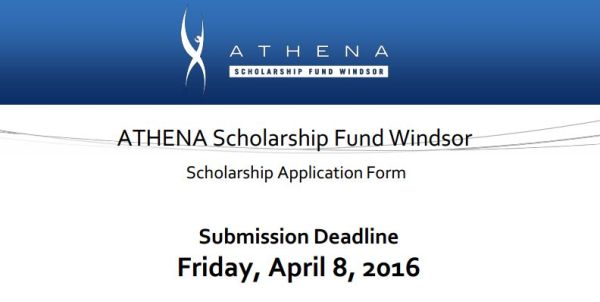 The ATHENA Scholarship Fund Windsor is pleased to announce scholarship program that is supported by generous donations from private citizens, corporations, professions, academic institutions and community organizations. The scholarship is open to post-secondary students who are recognized for business and professional excellence, for community service, and for mentoring and providing a role model to encourage women to achieve their leadership potential. A total of three $5,000 scholarships will be awarded to worthy scholars selected as follows.
ATHENA Scholarship Fund (Windsor) was established as a charity and is pleased to be a member of The Greater Windsor Community Foundation.
Eligibility:
A male or female student 18 to 30 years of age as of January 1, 2016
Interested in increasing leadership opportunities for women, enhancing the quality of life in your community, mentoring, team building and pursuing diversity
Presently enrolled full-time in a post-secondary institution such as the University of Windsor or St. Clair College of Applied Arts and Technology and have spent a significant and substantial period of time (at least a year) in Windsor/EssexCounty
How to Apply:
For applying the scholarship, the candidates can download the application form through the given link:
http://www.windsorchamber.org/wp-content/uploads/2012/06/ATHENA-Scholarship-Application-Form-2016.pdf
Supporting Documents:
Academic Transcripts (truecopy)
Personal profile (2 pages)
Resume
Academic: referee form and letter
Character: referee form and letter
Community participation: referee form and letter
Submitting Details:
The candidates can submit application form and supporting documents at the following address:
Windsor-Essex Regional Chamber of Commerce
2575 Ouellette Place
Windsor, Ontario N8X 1L9
Award Amount:
A total of three $5,000 scholarships will be awarded to worthy scholars selected as follows.
Application Deadline:
Application deadline is Friday, April 8, 2016.
Link for More Information:
http://www.athenascholarshipwindsor.com/scholarship.html
Contact Information:
For more information, the candidates can call at Telephone (519) 966-3696 or Fax (519) 966-0603.