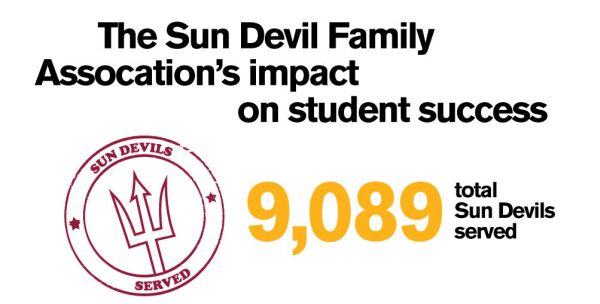 ASU Sun Devil Family Association is excited to announce the scholarship program. Scholarship is open for U.S. citizens or permanent U.S. residents.  Awards are committed to financial need, evidence of academic success, a strong commitment to community service and/or university involvement, and achievement of personal and educational goals.
The Sun Devil Family Association is committed to providing parents the information they need to stay informed of university happenings and to help their students through their college years.
Eligibility:
To be eligible for the scholarship, an applicant must:
Be a U.S. citizen or permanent U.S. resident
Be admitted to ASU for fall 2016
Must be enrolled as a full time undergraduate student and successfully complete at least 12 credit hours in fall 2016, and at least 12 credit hours in spring 2017 in an initial baccalaureate degree program at the Tempe, Polytechnic, West, Downtown Phoenix, or Lake Havasu Campus
Graduate with a baccalaureate degree in May 2017 or later (exception: current SDFA scholarship recipients graduating December 2016 may apply)
Have a minimum 3.0 cumulative ASU GPA, un-weighted
How to Apply:
You must sign in through the given link to be considered for scholarship:
https://weblogin.asu.edu/cas/login?service=https%3A%2F%2Fscholarships.asu.edu%2Fcas%3Fdestination%3D%2Fnode%2F1836%2Fapplication
Award Amount:
$5,000 per academic year ($2,500 per semester) scholarship award will be given to the winning candidates.
Application Deadline:
Application deadline is Tuesday, March 01, 2016.
Link for More Information:
https://scholarships.asu.edu/scholarship/1836
Contact Information:
If you have any question regarding the scholarship, you can call us: 855-278-5080 (toll free).