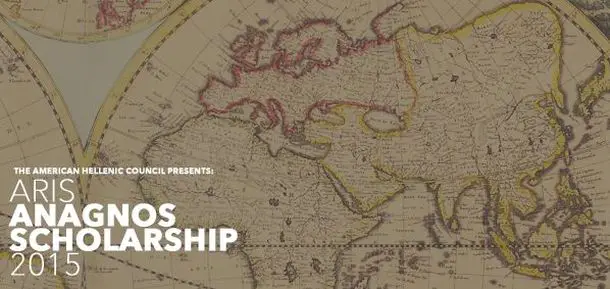 American Hellenic Council is pleased to announce the Aris Anagnos Scholarship to reward outstanding Greek-American students who have proven themselves individually as well as academically. The scholarship will provide a one-time reward of $5,000 for qualified candidates for the tuition fees.
The scholarship was established in 2015 by the American Hellenic Council and in future it will be an ongoing tradition for the organization as it completes 42nd year of service.
Eligibility:
"Greek-American" is defined as someone who is of full or half Greek descent, regardless of the country in which they were born or the country of which they hold citizenship. "Half Greek" is defined as someone with two Greek grandparents. Applicants must be able to prove their Greek heritage
Non-Greeks who are adopted into Greek families are considered "Greek Americans" and thus, qualify for this scholarship as long as the applicant can prove their adoptive family's Greek heritage
Students from Greece who are currently studying in the United States also qualify for this scholarship. Applicants must be able to prove their Greek heritage
The applicant must be a full-time student. A full-time student is defined as someone who is currently taking or plans to take more than 12 units per quarter/semester
Undergraduate and Graduate students are evaluated equally. High school students who will be attending an undergraduate program in the fall as well as current undergraduate students will be considered "Undergraduates"
There is no minimum GPA requirement. All applications will be evaluated based on overall merit
How to Apply:
For applying the scholarship, the candidates must fill the application form. The link is:
http://www.americanhellenic.org/wp-content/uploads/2015/06/ScholarshipApplication.pdf
Supporting Documents:
In 500 words or less, tell about yourself
In 500 words or less, Share your views on Hellenism and what it means to you
Please attach a transcript from the most recent academic institution you are attending/have attended
Please provide two letters of recommendation. One of the letter must be an instructor, professor, coach or advisor
Submitting Details:
The candidates may digitally or manually complete the application. Please be sure to include all of the necessary documents in one PDF file before submitting.
For submitting digitally, the completed form along with letters of recommendation, essays, transcripts and all other requested documentation to: info-at-americanhellenic.org with the subject line: (Your Name) Scholarship Application 2015
Award Amount:
The scholarship will provide a one-time reward of $5,000 towards the selected applicant's tuition.
Application Deadline:
The deadline for submitting scholarship is July 15th, 2015.
Link for More Information:
http://www.americanhellenic.org/?page_id=3755