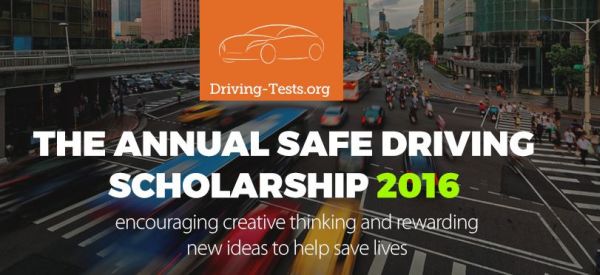 Driving-Tests.org is proud to announce the Annual Safe Driving Scholarship for all high school juniors and seniors, as well as undergraduate university or community college students. The aim of Driving-Tests.org rewarded those candidates, who are performing their creativity to encourage safe driving behaviors. The Driving-Tests.org will reward $2,500 scholarship that must be used solely toward the fees (including supplies) for attending an accredited U.S. college or university.
Driving-Tests.org is a part of Elegant E-Learning, Inc., a seven-year-old company with a proven track record of revolutionizing and providing free online resources for English teachers and instructors.
Eligibility:
High school juniors and seniors candidates will complete their high school graduation requirements by July 2017 and who intend to attend a U.S. accredited college or university beginning in the fall of 2017.
Undergraduate college or university students who are currently attending a U.S. accredited college or university between the ages of 17 – 25 at the time of entry.
Potential winners must be able to present proof of eligibility.
Immediate family members (children, siblings) of employees of Driving-Tests.org or their respective subsidiaries, affiliates, and advertising.
Promotional agencies and anyone involved in the development, production, distribution of materials for, judging or coordination of this Scholarship, and persons living in the same household of such employees whether or not related, are not eligible to enter or win.
How to Apply:
Applying for the scholarship, the candidates must create a video answering the following question: How can you as a new driver help to reduce road fatalities among your peers? The video should be no longer than 2 minutes and must meet the Entry Criteria and Objectives.
The candidates can upload their video through the given link: http://driving-tests.org/scholarship/#form
Video Guidelines:
Be 2 minutes or less.
Be original.
If the video includes music, then the music must be original music created by the Entrant.
Make your video 2 minutes or less
Be in .MOV, .MPEG, or .AVI
If an iPhone or some form of a flip camera is used, please shoot footage horizontally, not vertically
Overall, please select the highest resolution possible with any camera use
Financial Aid and Award Money:
The Driving-Tests.org will award $2,500 scholarship to the winning candidate
Application Deadline:
The Scholarship deadline is December 31, 2016, at 11:59:59 p.m. ET. The winner will be announced February 1, 2017.
Link for More Information:
http://driving-tests.org/scholarship/
Contact Information:
If you have any question, email at Scholarships-at-driving-tests.org