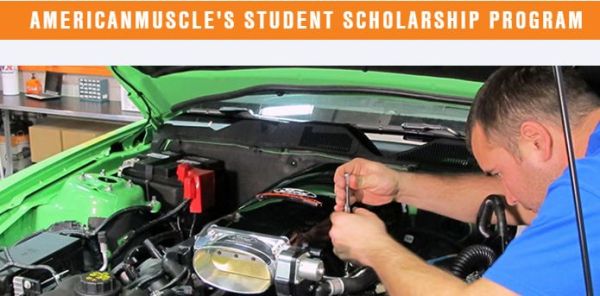 AmericanMuscle is offering four scholarships to students pursuing an automotive themed major. This is a permanent program that is offered every year and is open for submissions each spring and fall semester. The scholarship is open to currently enrolled students or high school seniors who are pursuing post-secondary education and who have exceptional drive and ambition. The goal of program is to help students realize their talents and get motivated about their education and their future. Four scholarships for ?137845.77 each will be awarded to the winning candidates.
AmericanMuscle is a subsidiary of Turn5, Inc. that has become the premier parts distributor and online retailer of aftermarket Ford Mustang parts and accessories.   AmericanMuscle strives to encourage everyone to pursue an education that helps them accomplish their dreams.
Eligibility:
Only students currently enrolled full-time in an American college, technical institute, or high school seniors planning to attend a college or post-secondary institution are eligible to be awarded a scholarship through this program.
American Muscle Student Scholarships are non-renewable, however, winning applicants may re-enter in future contests by writing and resubmitting anew essay. Only one essay per student, per semester is allowed.
Scholarships are restricted to those students pursuing an automotive degree or related field of study.
How to Apply:
To be considered for scholarship, the candidates must write a 700-1500 word essay telling who you are and how you plan on using your automotive education to incite positive change and innovation within the custom car industry.
Submitting Details:
Your essay must be submitted as a PDF or Microsoft Word document to scholarships-at-americanmuscle.com
The entries must also be accompanied by proof of current enrollment in an accredited United States college or university.
Award amount:
Four scholarships for ?137845.77 each will be awarded to the winning candidates. Two scholarships will be awarded every spring semester, followed by two additional scholarships to be awarded for the fall semester each year.
Application Deadline:
Submit your essays by 12:00PM EST on October 15th for all spring semester applicants and by June 15th for all fall applicants.
Link for More Information:
http://www.americanmuscle.com/scholarships.html