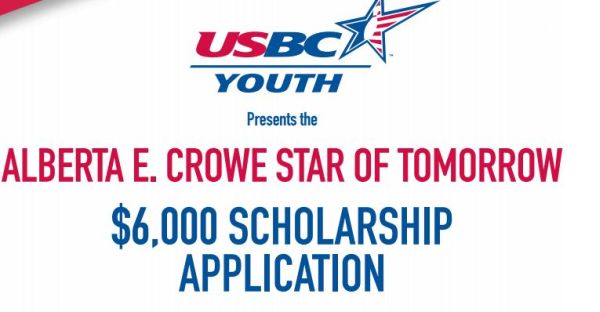 The United States Bowling Congress (USBC) is inviting the application for The Alberta E. Crowe Star of Tomorrow award. The award annually recognizes star qualities in a female USBC Youth member who competes in the sport of bowling. A $6,000 scholarship award will be given to the deserving candidate.
 The Star of Tomorrow annual honor for young women bowlers was launched in 1961 under Crowe's direction. ALBERTA E. CROWE, a seven-term president of the Women's International Bowling Congress, was recognized by her peers not only for great service but great leadership and depth of character.
Eligibility:
Be a current USBC Youth member in their senior year of high school or enrolled in college
Be a USBC Youth member in good standing
Have a current GPA of 3.0 or better, based on a 4.0 scale
How to Apply:
For applying the scholarship, the candidates must fill the application form. The link is:
http://usbcongress.http.internapcdn.net/usbcongress/bowl/scholarships/pdfs/Scholarship_Application_EarlAnthony.pdf
Supporting Documents:
Include at least two letters of reference (by a teacher, principal, employer, etc.)
Include an official or unofficial school transcript
Submit an essay of 500 words or less on how the lessons you have learned through academics, community involvement and bowling have influenced your life and your goals for the future.
Submitting Details:
The candidates can submit the application along with the supporting documents by mail, fax or email
Mail – IBC Youth Department Attn: Earl Anthony Memorial Scholarship 621 Six Flags Dr. Arlington, TX 76011
Fax: 817-385-8262
Email: contactus-at-ibcyouth.com
Award Amount:
The award winner will receive a $6,000 scholarship.
Application Deadline:
The candidates can send completed application form and all documentation post-marked no later than DECEMBER 1, 2015.
Link for More Information:
http://usbcongress.http.internapcdn.net/usbcongress/bowl/scholarships/pdfs/Scholarship_Application_AlbertaCrowe.pdf