The American Indian Science and Engineering Society (AISES) is giving you chance to apply for this "Burlington North Santa Fe (BNSF) Foundation Scholarship". The scholarship is made available to American Indian high school seniors. The aim of the scholarship program is to ensure students are given exposure to first-rate STEM programs. The winning candidate will receive $2,500 per academic year, up to 4 years.
The American Indian Science and Engineering Society (AISES) is a national, nonprofit organization focused on substantially increasing the representation of American Indians, Alaska Natives, Native Hawaiians, Pacific Islanders, First Nations and other indigenous peoples of North America in science, technology, engineering and math (STEM) studies and careers.
Eligibility:
All Scholarship applicants must be:
Must have a 2.5 or higher cumulative grade point average (GPA)
Must be a high school senior anticipating successful graduation in the current year. Must attend an accredited four-year college/university as a full-time student starting Fall 2017
Applicants must be an enrolled member/citizen or a descendant of an enrolled member/citizen
How to Apply:
To be eligible for the scholarship students are required to submit 3 essays, up to 1,000 words each essay prompt are given below:
Essay Prompt 1: Please share a personal statement that highlights your background, interests, academic achievements, and what impact you hope to have in your community and/or profession.
Essay Prompt 2: What stimulated your interest in your chosen major or area of study? 
Essay Prompt 3: What activity or activities (cultural, community-related, occupational, academic, athletic etc.) most clearly reflect your character?  Please describe your participation.  Why is participation in this activity or these activities important to you?
Supporting Documents:
You will be required to submit the following:
Official Transcript(s): If this cannot be uploaded, please send electronically to kcoulon-at-aises.org(link sends e-mail).  If your school requires you to mail official transcripts, please mail to AISES Scholarship Department, 1375 Ken Pratt Bvld. Suite C-1, Longmont, CO 80501.
Tribal Enrollment Verification:  Students must be an enrolled member or citizen or a descendant of an enrolled member or citizen.  Students may submit a Certificate of Indian Blood (CIB) or proof of tribal enrollment (tribal ID, enrollment card or letter issued by your tribal or village government).  Also, students may submit documents that show proof of dependency from an enrolled member or citizen of a Tribe/Nation/Native Village or Native Hawaiian.
Resume:  Submit your current resume.  If you need help creating a resume, your school will likely have a Career-Services office that can help.
Photo:  A headshot photo, in jpeg format.
Letters of Recommendation: Be sure to give your recommenders plenty of time—at least 3 weeks, more is better—to complete their recommendation for you.  It is often helpful to talk with them before you submit the form, to ensure they are able to complete a positive recommendation for you in a timely fashion.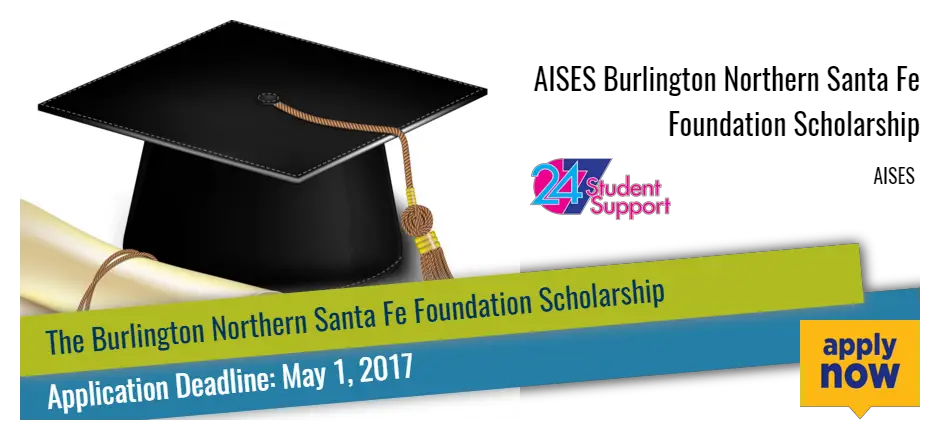 Financial Aid and Award Money:     
The scholarship will fund $2,500 per academic year, up to 4 years.
Application Deadline:                  
The application deadline is May 1, 2017, at 11:59 pm (MDT).
Link for More Information:
http://www.aises.org/scholarships/bnsf