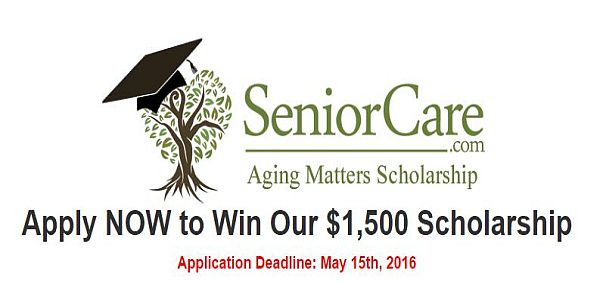 SeniorCare.com is excited to announce Aging Matters Scholarship. The scholarship is intended for college student that currently cares for an aging loved one, works within the senior community, or intends to pursue a career that will have an impact on the elder population. The SeniorCare.com Aging Matters Scholarship awards $1500 to be applied towards tuition, books, board and other expenses.
SeniorCare.com is dedicated to informing consumers about the realities and options within the senior care industry. SeniorCare.com operate a collection of online brands that offer in-depth content and provider directories for various segments of the senior care industry, such as assisted living, home care, skilled nursing and adult day care.
Eligibility:
An existing college student or incoming freshman (to be enrolled in the Fall of 2016 in good academic standing)
Attending any 2 year or 4 year accredited college or university as a full-time student
How to Apply:
For applying the scholarship, the candidates must complete the scholarship application form. The link is:
http://www.seniorcare.com/scholarship/
Write a short, 1000 word or less essay on why Aging Matters to the applicant
Award Amount:
A $1500 scholarship will be given to the winning candidate.
Application Deadline:
The application deadline is May 15th, 2016.
Link for More Information:
http://www.seniorcare.com/scholarship/