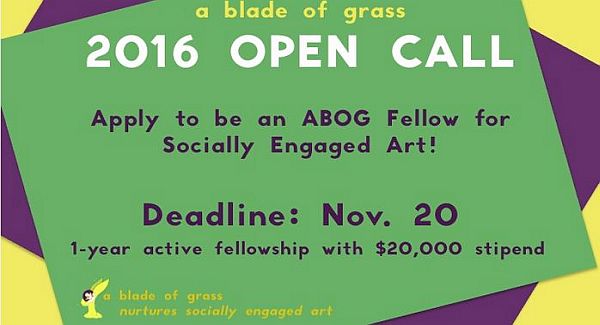 ABOG (A Blade of Grass) is proud to announce fellowship for Socially Engaged Art. The fellowship is open for U.S. citizens of at least 25 years of age. The ABOG Fellowship for Socially Engaged Art is intended to fund artists who take a leadership role, and who are engage directly with communities to develop projects of ambitious scale that promote social change.
ABOG supports individual artists and collectives who are working in leadership roles and in partnership with communities, in ways that fellow are relevant in everyday life, at ambitious scale, to enact social change.
Eligibility:
Eligible applicants for the ABOG Fellowship for Socially Engaged Art:
Are artists or artist collectives working independently. Artists or artist collectives registered as 501c3 nonprofit organizations are not eligible to apply. If you are a collective, please submit a single application under the name of the collective.
Are not currently enrolled as students.
Are US citizens, or US residents with legal work status. If applying as a collective, a US citizen or resident with legal work status must be the primary contact for the group.
Are at least 25 years of age.
Have not received an ABOG Socially Engaged Art Fellowship as an individual or as part of an artist collective in the last 3 years.
Have projects that engage directly with a specific community or communities.
Have a website with contextualized examples of past work that a selection panel can review.
How to Apply:
For applying the scholarship, the candidates must fill the application form and submit letter of interest to frame your project in these terms as you address the following questions in your 500-word statement:
What is your proposed project? Clearly articulate project goals and explicitly describe how you intend to achieve them.
What is your artistic vision, and why is your project best framed as an art project?
How does your project enact social change?
Will the project be realized in the course of a year? If not, what do you expect will happen during a one-year fellowship?
Who will you be working with, and how will you be working with them? Describe your process for collaborating, and outline the relationships you've established with members of that community.
Supporting documents:
All applicants must submit the following via online form:
Eligibility screening
Link to a website with examples of past projects
500-word Letter of Interest
CV (or CV's if applying as a collective) in PDF format
Submitting Details:
Submit your application via our online form only. Applications received via other means will not be reviewed. The link of on-line submission is:
https://abladeofgrass.wufoo.com/forms/abog-fellowship-letter-of-interest-2016/
Award Amount:
Project support of $20,000 with minimal restriction (budget line items may include things like living expenses that are not direct project expenses).
Application Deadline:
Fellowship Workshops: September 29, 2015 & November 2, 2015
Deadline for submissions of Letter of Interest: November 20, 2015
Notification of all applicants, invitation to semi-finalists to submit full application: Begins December 17, 2015
Deadline for full application: January 15, 2016
Link for More Information:
http://www.abladeofgrass.org/application/guidelines/
Contact Information:
Have questions about the application process? Send a short description via email (not the whole application document), and allow 2-3 days for a response: info-at-abladeofgrass.org