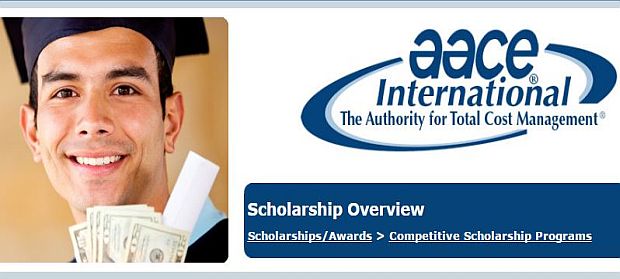 AACE International believes that excellence and outstanding efforts should be recognized and rewarded. That's why AACE International is offering scholarships to US, Canadian, and International students who are pursuing a program related to cost engineering/cost management. The AACE International Education awards the competitive scholarships ranging from $2000 to $8000.
AACE International is a non-profit association serving the total cost management community since 1956. To be the recognized technical authority on cost and schedule management for programs, projects, products, assets, and services.
Eligibility:
• Have completed one year of college, be currently enrolled as a full-time student at an accredited university.
• Possess a GPA of 3.0 or higher (using a 4.0 grading scale)
• Be enrolled full time in a program for the fall term. Applicants in their final undergraduate year must have been accepted to attend a full-time graduate program in the next academic year to qualify for a scholarship.
• Restricted to students studying Electrical Engineering/Electronics, Architecture, Engineering-Related Technologies, Aviation/Aerospace, Mechanical Engineering, Business/Consumer Services, Construction Engineering/Management, Engineering/Technology, Chemical Engineering, or Civil Engineering
How to Apply:
The candidates can enter in scholarship program by completing on-line application form through the given link:
https://www.tfaforms.com/396141
Award Amount:
The competitive scholarships are awarded by the AACE International Education Board and are currently available in amounts ranging from $2000 to $8000.
Application Deadline:
Applications are accepted from December 15th to February 7th.
Link for More Information:
http://www.aacei.org/awards/scholarships/
Contact Information:
If you have the question, contact the Manager, Education at education-at-aacei.org.