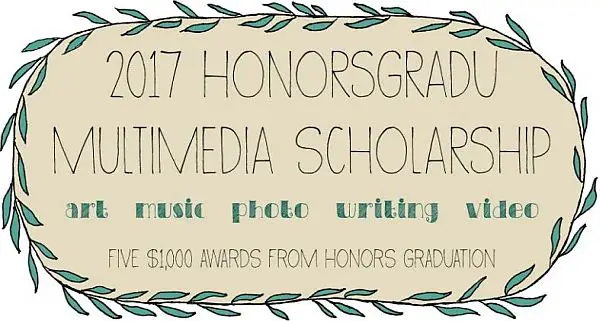 Get a chance for creative voices to be heard! Through art, music, photography, creative writing, or video, you can use HonorsGradU Multimedia Scholarship's prompt to create and share your work at earning $1,000 toward your tuition. HonorsGradU, an educational blog offers an annual scholarship available to college-bound high school seniors and college students with at least one year left of school. 2017 prompt is Represent your views about the concepts of education vs. learning. Five winners will be selected and each will get an award of $1000.
HonorsGradU is a non-profit blog maintained by Honors Graduation, a company specializing in graduation apparel including cords, tassels, stoles, etc.
Eligibility:
You must be a graduating high school senior that will be attending a college or university to continue your education -OR- a currently enrolled college student with a year or more remaining in your education.
All United States students are eligible.
High school seniors can apply in any or all of the 4 high school categories (art, creative writing, music, or photography), but there will only be one scholarship awarded per person. College students can apply only in the videography category, and may likewise submit more than one project, with only one scholarship awarded per person.
Your project must be original & creative! No plagiarism will be tolerated.
How to Apply:
Each year, they carefully select prompts to foster individual expression, genuine reflection, and personal meaning. This year's prompt is as follows: Represent your views about the concepts of education vs. learning.
Art
Creative Writing
Music
Photography
Video (college students only)
Financial Aid and Award Money:
Five awards of $1000 each will be given to the winning candidates.
Application Deadline:
The candidates must submit their projects by April 16, 2017, at 11:59 pm MST.
Link for More Information: