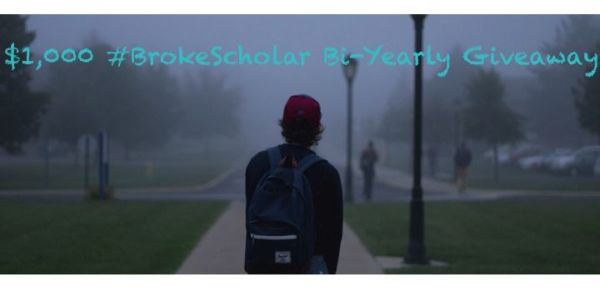 BrokeScholar is pleased to announce its Bi-Yearly scholarship program. The scholarship is open to undergraduate students of U.S. The mission of scholarship is to save college students as much money as possible along their journey for higher education. Whether you are a student, parent, or scholarship provider, BrokeScholar strives to play an important role in the scholarship application process. The winning candidates will get $1000 scholarship award twice a year.
Eligibility:
Officially accepted to or currently enrolled in a U.S. college or university for 2016
Undergraduate cumulative amounting to minimum 2.5 GPA
Any field of study accepted
How to Apply:
Tweet or post a picture on Instagram of your idea "What is your best idea for making money as a college student?"
Submit your application below with a link to your tweet or Instagram picture along with a short 300-600 word essay explaining your money making idea. The link is: https://www.brokescholar.com/scholarship-opportunity/
If you would prefer not to use social media, that's fine. Just submit your answer in essay form.
Supporting Documents:
• Official copy of undergraduate college or university transcripts
• If student is a new undergraduate please provide the following documents (official documents only): Copy of current academic transcript from student's high school and Copy of Acceptance Letter from College or University's Admissions Office
• Proof of legal residency
Submitting Details:
If you have issues, you can also email your application to scholarships-at-brokescholar.com
Award Amount:
$1,000 scholarship award will be given to the deserving candidates twice a year.
Application Deadline:
Application Deadline is August 31st, 2016.
Link for More information: 
https://www.brokescholar.com/scholarship-opportunity/