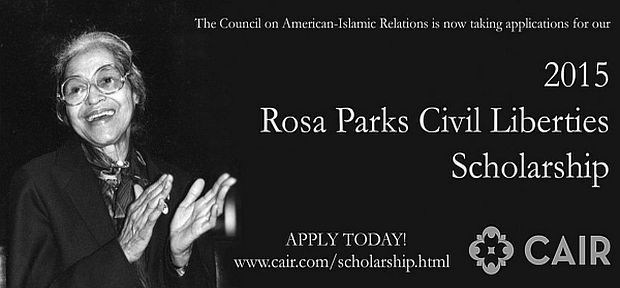 The Council on American-Islamic Relations' (CAIR) is pleased to announce the Rosa Parks Civil Liberties Scholarship program to honor the life and work of civil rights pioneer Rosa Parks. $1,000 scholarship amount will be given to the deserving candidate. The winner of the scholarship must be present to accept the award.
CAIR's mission is to enhance understanding of Islam, encourage dialogue, protect civil liberties, empower American Muslims, build coalitions that promote justice and mutual understanding.
Eligibility:
To be considered eligible for the scholarship, the candidates must:
Be enrolled in, or accepted to, a full-time undergraduate, graduate or professional program of an accredited college or university in the United States for the fall 2015 semester
Be a resident of the DC, Maryland or Virginia area – either fulltime or during the school year
Be able to attend CAIR's 19th Annual Fundraising Banquet on Saturday, October 17th, 2015 to receive the award in person
How to Apply:
For applying the scholarship, the candidates must fill the application form. The form can be downloaded by the link:
http://www.cair.com/images/pdf/2015_Rosa_Parks_scholarship_guidelines_application.pdf
Supporting Documents:
Submit a resume demonstrating an interest in civil liberties issues and/or community service in past employment or volunteer experiences
Submit a bio (150 words max)
Sign the Attestation and Application Signature portion of the application
Write an essay (in 500 words or less) on the topic: "Describe an experience that illustrates your connection to advancing equality in America."
Submitting Details:
The candidates can submit the application form via email: scholarship-at-cair.com with the subject line "Rosa Parks Scholarship Application". The supporting documents can be attached with the mail.
Award Amount:
$1,000 scholarship amount will be given to the winning candidate.
Application Deadline:
The application deadline for the scholarship is September 3, 2015.
Link for more Information:
http://www.cair.com/scholarship.html